Like most of her friends, 20-year-old student Franzi started watching porn when she was 13. "The women are so loud in porn that I felt like my partner would think I wasn't enjoying it when we were having sex, because he would have also watched porn and would expect lots of moaning," she says.

An absence of female agency is another thing she takes issue with. "It normalizes acts like men cumming on your face and breasts, and makes girls think that they have to do certain things. For example, most girls I grew up with thought that blow jobs were just a given. Basically, male gratification is made to seem much more important than female gratification."
Read more: Sex in Germany study opens a window into German bedrooms

To offer young people like Franzi a more realistic and diverse range of adult films, Berlin's SPD has proposed a scheme to publicly fund feminist porn – defined as diverse and inclusive pornography made in fair conditions – and make it freely available via public broadcasters.
"Mainstream porn depicts sexist and racist stereotypes," it says in the proposal. "These can have a lasting effect on consumers... giving young people completely unrealistic expectations as they become sexually active and preventing them from developing confidence in their bodies and sexualities."
Those young people are by no means a minority. According to market research company Netzsieger, 40 percent of under-18s in Germany have searched for porn online. At worst, they can come across violent and degrading images. At the very least, their viewing can lead to insecurities about performance and negatively affect their experience of real-world sex.
Consent and communication
To Ferike Thom, who authored the proposal, this is a call to action. Mainstream porn shouldn't be allowed to replace proper sex education but needs to be factored into it. One way or another, it can't be ignored. "There need to be alternatives, and they need to be free because young people aren't going to pay for porn," she stresses. "But if free, commercial porn is all that young people watch, they won't be seeing different body types and different perspectives; they won't be learning about consent and communication."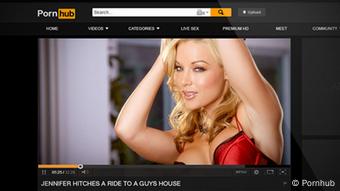 The Pornhub website is the world's largest distributor of adult entertainment
With only 3 percent of porn sites asking for a user's age, what young people are learning about would make most parents blanch (if they even knew what it was). Averaging 81 million visits a day, PornHub is the world's largest distributor of adult entertainment. In 2017, its top 20 most searched terms included hentai, MILF, creampie, ebony and gangbang, with trending search terms ranging from "ghetto booty"' to "surprise anal" and "stop it's too big" (sic).
Feminist porn rejects these categories as dehumanizing and provides an alternative to heterosexual, cisgendered sex. "Mainstream porn is reductive, there are clear-cut gender roles, women are satisfying men, it's all basically leading towards the cum shot," says activist and sex-positive feminist Laura Méritt, the founder of the PorYes feminist porn film awards. "Essentially, the mainstream porn industry is deeply conservative."
She welcomes the SPD proposal. "If feminist porn were publicly funded, it would have to abide by certain criteria, it would have to be what we call 'fair' or ethical porn." In other words, it would represent the new type of porn that's increasingly shaking up the industry, as evidenced by the growing popularity of platforms such as XConfessions and The Crash Pad Series. Made in positive working conditions, catering to straight people, transgender people, gays, lesbians, disabled people, people of different ethnicities and different body types, it champions pleasure and personal choice.
"Society is flooded with free mainstream porn," says Méritt. "It's there if you want it or not. So young people need to know they have choices and they also need to know how to make them."
Changing times, changing issues
The challenge, says Ferike Thom, will be in winning her party's older generation over to the cause. After its disastrous showing in last September's election, the SPD is currently struggling with an identity crisis and polling at historic lows.
"It's not necessarily an issue that everyone sees as relevant right now," she says.
But with the world fast tiring of toxic masculinity, the old guard could be missing a trick. Now that the Internet has made porn ubiquitous, it's becoming unavoidably political.
"On this front, society is just much further along than politics," says Laura Méritt.
Franzi, meanwhile, would just be happy to come across porn with "less fake moaning."