The Humboldt University of Berlin (HU) announced on Monday its plans to open an Islamic theology institute.
With its new course program, the institute will join five other universities in Germany teaching Islamic theology.
According to HU President Sabine Kunst: "We are currently beginning the process of establishing an institute for Islamic theology. Nothing more and also nothing less."
In response to the assessment by the Catholic News Agency (KNA) that the program was designed to thwart fundamentalist tendencies, HU's spokesperson Hans-Christoph Keller said the university would not comment on speculation by news agencies. Keller said the goal of the course program "is to impart academic foundations in Islamic theology for training imams and to qualify students for a school teaching post."
"Affiliation to the Muslim faith shall not be a requirement for admission to these courses," the university also said in a statement on its website.
Courses to start this year
Berlin's mayor, Michael Müller, called the endeavor a "matter of great importance" and a high priority. Matthias Kuder, a spokesman for the mayor, told DW that 13.5 million euros ($14.5 million) of national funding would secure the finances of the institute until 2022.
Michael Borgolte, a former HU Professor of Medieval Studies, is expected to oversee the founding of the institute. His work to date has focused on European history from Christian, Jewish and Islamic perspectives.
"The Institute for Islamic Theology is expected to be established relatively quickly," the HU said in its statement. "The aim is to begin offering courses for the 2018/2019 winter semester."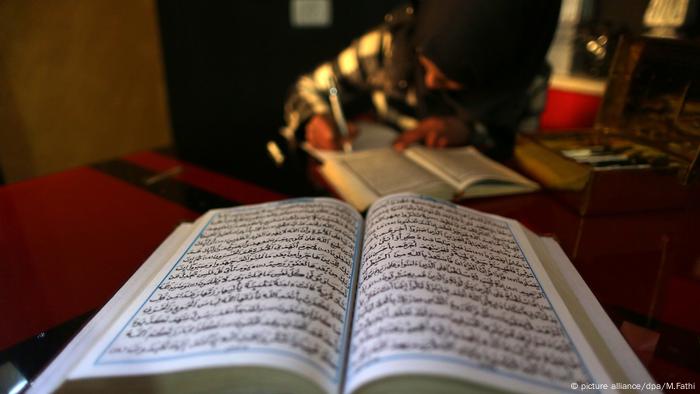 Print copy of the Koran.
Representatives from Muslim organizations are on the institute's advisory board, which is to review applications from those wishing to teach the program. The board is expected to examine candidates' denominational background.
The controversial Turkish-Islamic Union for Religious Affairs (DITIB), a Turkish umbrella group engaged in religious, social and cultural activities, will also represented with one seat on the 15-member advisory board. DITIB comprises over 900 mosques linked to the Turkish government's Directorate of Religion.
Some DITIB imams have been suspected of spying on supporters of US-based preacher Fethullah Gulen. However, Borgolte said there has not yet been any "point of conflict" with DITIB representatives. However, Mayor Müller cautioned "we must look at who we work together with." Keller added that an assessment of the DITIB advisory board member's influence on the choice of candidates for the professorships is not possible at this point "since members of the advisory board have not been confirmed yet."
A new faculty in the planning
Evangelical theologists from HU have put forward another suggestion for inclusive theological teaching. Their request to found a joint "Faculty for Theology" for Christians, Muslims and Jews, has been met with encouragement from Berlin Mayor Müller.
Müller confirmed his support for the proposal, calling it a "pioneering idea and viable undertaking," but one that would take time to implement.
His opinion was confirmed by HU President Sabine Kunst who said "We have to take one step at a time."
"The first step is to set up the Institute for Islamic Theology at the HU. We want this to be a success. It is important that this key project is not overloaded by a much broader idea," she said.