"Der Freie Wille," or "The Free Will," is the second entry in this year's main competition to deal with the issue of rape. The Bosnian picture "Grbavica" has also focused on the topic.
A 15-minute scene showing a rape in horrifying detail forms the centerpiece of the German movie screened at the Berlinale earlier this week.
There will be few scenes committed to film this year more harrowing than the assault of a young woman on a windswept beach which explains how the main figure, Theo, comes to serve more than nine years in a secure psychiatric unit.
Film focuses on an individual
Jürgen Vogel, one of Germany's top actors and better known for comic roles, plays the convicted rapist Theo. He attempts to escape from the terrible longing within him and build a life with an unsuspecting girlfriend, Nettie, portrayed by Sabine Timoteo.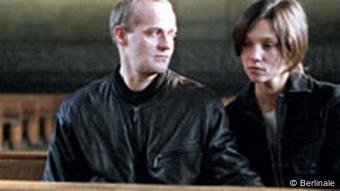 Actress Sabine Timoteo gives the harsh film a gentle side, says the director
The plot skips straight to his life after detention, and his meeting with Nettie. She has suffered years of mental abuse from her divorced father.
The blossoming relationship between Theo and Nettie, which is eventually consumed by his past, are the main subject matter of the 163-minute-long movie.
"It is not a film about rape, it is about an individual," director Matthias Glasner told a press conference after the screening earlier this week. "I didn't want to show the treatment for a rapist, which is why there are no scenes of the therapy. I wanted to show how life is for a rapist, what they feel."
Glasner said he had shown the film to a girlfriend who had been raped.
"At first, she didn't want to see it. But when she did, she said it had removed the horror of the experience for her," Glasner said to a howl of objection from one of the assembled journalists.
A film which courts controversy
The brutality of the rape scenes means the film courts controversy -- making it perfect for a festival that prides itself on grappling with issues others won't touch. It relies on Timoteo for any gentleness.
"I have to say that I felt a lot of resistance to the plot to begin with," Timoteo said. "My biggest challenge was to let that angst go."
"The Free Will" is one of four German-made films in competition, along with "Longing" ("Sehnsucht"), "Elementary Particles" ("Elementarteilchen") and "Requiem."
The prestigious Golden Bear prize will be awarded on Saturday.