Keeping in mind last year's sex-and porn-themed Berlin film festival which spurred at least one tabloid to dub it "Sexinale," Berlinale Director Dieter Kosslick is skirting clear of controversy this time.
Speaking at a packed press conference in Berlin on Monday, Kosslick said the festival, which runs from Feb. 9 to Feb. 19, didn't have a formal motto, but was more serious in its focus.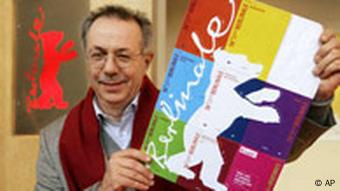 Kosslick says this year's Berlinale will be more serious in tone and content
"I know sex, football and politics was big last time," Kosslick said. "But this time, if there is a trend, then it's definitely political. All around the world, there's a very strong tendency of political cinema, one that's close to reality and shows a tough world, and I'm glad that the Berlinale is taking part in it."
The political theme runs through almost all sections of the Berlinale this time. "Syriana," a political thriller starring George Clooney is being screened out of competition. "Bye Bye Berlusconi!" a satire by Jan Henrik Stahlberg will feature in the Panorama section and British Michael Winterbottom's "The Road to Guantanamo" about three Muslims held up at the US lockup in Cuba will show in the competition section.
Asked whether the latter was a comment on the Iraq war and US policies, Kosslick said it was rather "a statement for human rights.
"If I had my way, then I'd meet the 450 Guantanamo inmates, who are being held there in violation of every human right and are tortured, on the red carpet during the screening of the film," Kosslick added. "But unfortunately I can't."
Bigger than ever
In addition to promising some seriously thought-provoking fare, this year's Berlinale, which is the first of Europe's three major festivals in the new year, has gotten even bigger, reflecting its surging popularity amid Germany's economic stagnation.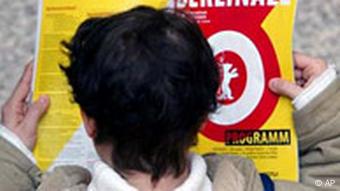 The Berlinale offers a mind-boggling array of events and shows
Kosslick and his staff went through a record 4,000 films submitted to pick the 400 for the main competition and various sidebar events.
A total number of 26 films are in the competition section, 19 of them will compete for the Golden and Silver Bears and 17 films are world premieres.
A record number of 18,000 film buyers, sellers, producers, directors and actors as well as journalists from around the world will also be thronging the screenings and press conferences around the glitzy Potsdamer Platz in downtown Berlin.
Reconfirming the festival's reputation as a launching pad for Hollywood and European films at the start of the year, Beki Probst, head of the festival's European Film Market, where buyers and sellers from around the world gather, said the section had won lots of new customers from the US, Asia as well as within Europe. The film market has shown a 45 percent increase this year with 254 companies attending.
"It's definitely established Berlin as an important place," Probst said. "Now the feeling is 'Berlin is a must'."
Four German entries
Kosslick, who is in his fifth year as Berlinale director and is credited with boosting German film, has stayed true to his reputation.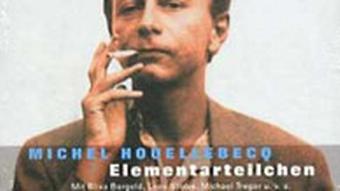 The book cover of Michel Houellebecq's "Elementary Particles"
This time, Germany is entering the competition with four films: Oskar Röhler's "Elementary Particles," an on-screen adaptation of French literary bad boy Michael Houellebecq's tale of a sexually-obsessed person, Matthias Glasner's "Free Will," a story of a compulsive rapist, Valeska Grisebach's "Longing," a picture about a love triangle set in the former communist east and a film about exorcism in 1970s West Germany by Hans-Christian Schmid, called "Requiem."
"The four are absolutely justified. They're very different," Kosslick said, adding tongue-in-cheek: "If you don't want to laugh to death, then you should go and see the German films."
Star power
True to its form, the Berlinale this year will also draw in the stars.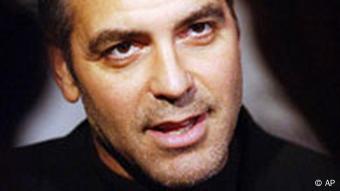 "My good friend George Clooney," is how Kosslick describes the Hollywood star
Berlin favorite George Clooney, Isabella Rossellini, Meryl Streep, Vin Diesel, Roberto Benigni und Claude Chabrol among others will add some glamour to the Berlin winter. The international jury will be headed by English actress Charlotte Rampling and will include veteran German actor Armin Müller-Stahl.
"Snow Cake," a British-Canadian co-production starring Sigourney Weaver as an autistic woman, opens the festival. Weaver is expected on the red carpet along with co-star Alan Rickman.
Away from the glamour and the buzz, Kosslick said the festival, which costs an estimated 16 million euros ($19.5 million), was financially well-secured too thanks to new sponsors.
"Overall, the festival is on good, solid ground," Kosslick said.