After responsibility for security is handed over to Afghan police and soldiers in 2014, German police trainers will continue to teach local recruits.
"That seems to me to be in tune with the sustainability of our current engagement," German Interior Minister Thomas de Maiziere told the dpa news agency.
"But whether three, five, twenty or another number of police trainers will stay in Afghanistan, I can't yet say."
In July, Afghan President Harmid Karzai told international diplomats at a conference that 2014 was the date when Afghans "will be responsible for all military and law enforcement operations throughout our country."
It is a non-binding date, but has been seized upon by Western politicians facing electorates at home who are increasingly opposed to sending soldiers to fight an increasingly powerful Taliban insurgency for a national government plagued by high levels of corruption.
Corruption is a problem
De Maiziere said he could imagine that German trainers would handle officer training after the official handover of security. By the Afghan police force should number 134,000.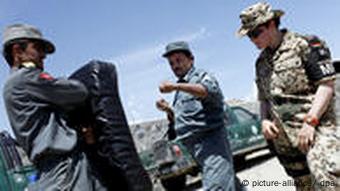 German experts have been working with their Afghan colleagues since 2002
German police train around 5,000 Afghans a year. The interior minister said that there were widespread problems of corruption in the Afghan state.
"A police force can only win authority in a country if it is free of corruption," de Maiziere said, adding that the same applies to the government.
Germany has been working to help train Afghan police recruits for eight years as part of the EUPOL project. This year, the number of German police trainers rose from 170 to 250.
Tense security situation
The new regional commander of the international Security Assistance Force in Northern Afghanistan, German Major General Hans-Werner Fritz, says the deployment in the area is "reaching a kind of culmination."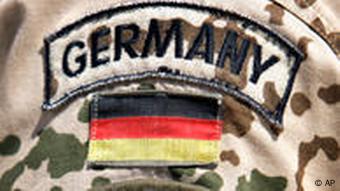 ISAF troops have faced a challenging few months
The security situation has gotten more tense over the last few months, Fritz told the German paper "Welt am Sonntag," but added that he was confident about making progress in the north of the country.
"I can see that we have come on in terms of stabilization and reconstruction," he said, stressing that it was important to keep both the military and civilian components of the Afghanistan mission in mind.
German Defense Minister Karl-Theodor zu Guttenberg shared that opinion, saying the situation in parts of the country where German troops are stationed had gotten dramatically tougher. He said the Taliban has strengthened their positions in the north and even penetrated into formerly peaceful areas such as Kunduz.
He stressed, however, that in other areas the security situation was showing some improvement.
The ferocity of the war has been intensifying since the United States began deploying an extra 30,000 troops as part of President Barack Obama's surge in support of a counter-insurgency campaign aimed at speeding an end to the conflict. Germany has some 4,000 troops serving in Afghanistan.
Author: Joanna Impey (AFP, dpa)
Editor: Kyle James