Ten thousand migrants in regular jobs - that's the goal set by the team of young IT specialists, including Hussein Shaker, a refugee from Aleppo in Syria, behind Migrant Hire. It's Germany's first job portal aimed explicitly at people who fled to Germany to escape political persecution or economic hopelessness.
The idea is fairly simple: Refugees get help preparing resumes and job applications and can post their skills on the portal, while employers can search the database for the sorts of people they need or advertise positions that require filling.
"There are lots of companies that are open to refugees and want to give them a chance, but have difficulties even establishing contract with them," Migrant Hire Head of Talent Stefan Perlebach told Deutsche Welle. "We give companies the chance to find someone suitable. Conversely, refugees often lack a network here in Germany and the knowledge of what's expected from a job applicant, and we try to offer them guidance."
The project has been in existence for less than a year and came about when Finnish businessman and former company CEO Remi Elias Mekki chanced to meet Shaker. They tested out the idea of job mediation for refugees on Shaker's network of acquaintances, and before long, Migrant Hire was working out of the hip office-sharing space Betahaus in Berlin's Kreuzberg district.
The fledging job portal has a long way to go to achieve its stated goal: Perlebach says Migrant Hire has thus far helped just 150 to 160 refugees find steady jobs or get into comprehensive training programs.
"We were very ambitious when we formulated our goals at the start," Perlebach says. "But it's good to aim high."
Perlebach argues that Germany's employment needs will encourage the hiring of large numbers of migrants. And the most recent statistics support that idea.
Filling an emerging labor gap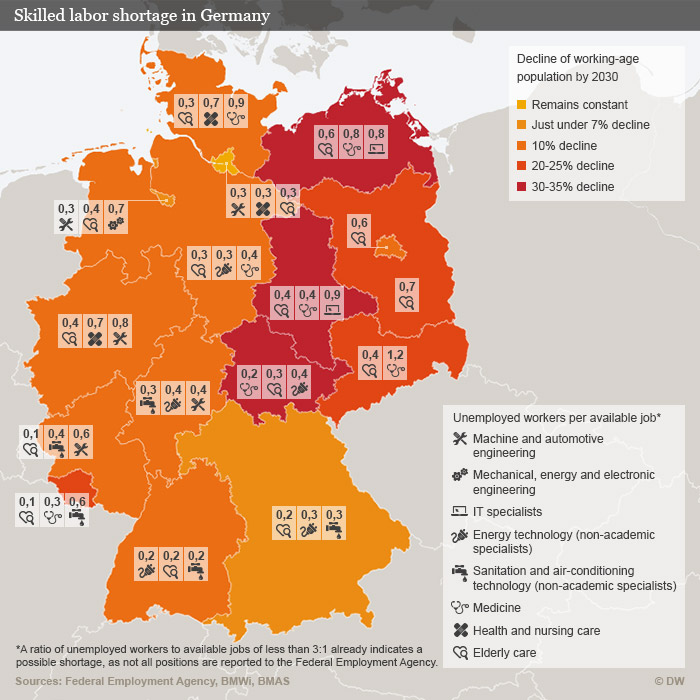 Refugees could help solve Germany labor shortages
A study by the Cologne Institute for Economic Research, published on November 30, found that foreigners who have moved to Germany account for 16.6 percent of the country's employees with higher degrees in the crucial and coveted areas of mathematics, IT, and science and technology, which are known in Germany under the acronym MINT. The study also found that 13 percent of employees with lesser MINT qualifications came from abroad.
Germany will be unable to fill 210,000 MINT positions in 2016 - up 9 percent over the previous year. There aren't enough young people in these areas to replace older ones who retire. Thomas Sattelberger, an ex-Telekom manager and current chairman of a private initiative to promote MINT subjects in schools, says that the problem in Germany would be far worse without foreign immigrants coming to take up jobs.
"That has seriously helped us in recent years," Sattelberger told German public broadcaster ARD.
The Cologne study also found that surprising progress has been made integrating refugees from Syria and Afghanistan into MINT jobs. Researchers predict that as many as 40,000 migrants of this sort could be employed in technical jobs in Germany by 2020. Conversely, they warn that the eastern parts of Germany face a major competitive disadvantage vis-a-vis the rest of the country because those areas fail to attract significant numbers of foreigners.
Another recent study of the eastern state of Brandenburg found that refugees have the best chance of integrating if they are matched to areas with labor needs - precisely the sort of service Migrant Hire is offering.
"Whether it's east or west, I see it as an investment in the future," Perlebach says. "For me it's relatively clear that the more time we invest in people now, the more likely it is that they will be able to carry their weight economically. The people coming from crisis regions aren't all doctors, engineers and IT experts, but there are lots of young people, and they can be equally well integrated into society."
It takes time to train people who may not speak a word of German, Perlebach cautions. But in some cases, all it takes to get a refugee working is a bit of help with Germany's notorious bureaucracy.
Cutting through red tape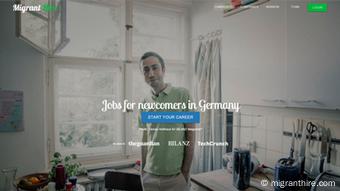 Bahjat al Mostafa is one of Migrant Hire's success stories
When asked if any of the cases of the people Migrant Hire has helped particularly stands out, Perlebach tells the story of Bahjat al Mostafa. The 33-year-old computer programmer fled Syria for Turkey in 2013 and arrived in Berlin in November 2015 via Greece after surviving a dangerous trip over the Mediterranean in an overcrowded boat.
After months of waiting around in a refugee home, Mostafa received offers of work from two IT companies, offers he couldn't take up because he was officially prohibited from being employed in Germany.
"He was very disappointed and depressed," Perlebach says. "He spent his free time in the library reading up on things and did everything he could. But he was legally denied the chance of getting a job."
Perlebach contacted the office responsible for foreign nationals (Ausländeramt) in Berlin, which he provided with a signed employment contract between Mostafa and the IT company Rocket Internet. An exception to the ban on employment was swiftly granted.
"He was extremely happy," Perlebach says. "He didn't really believe that things would work out - and certainly not as quickly as they did. We got the whole thing taken care of in two-and-a-half weeks, I think."
Getting a full work permit in Germany can be a difficult and opaque process - particularly for people with limited experience with the German language and German bureaucratic culture. In the case of Mostafa, matching a refugee with a job in advance helped cut through the red tape surrounding employment permission. A German company got the employee it needed, and Migrant Hire was one step closer to reaching its lofty goal of 10,000 refugee placements.