"At no point was Germany or any federal agency involved in organizing or carrying out training sessions in Libya," said government spokesman Ulrich Wilhelm on Monday, April 7.
He admitted that a private security company may have trained members of Libyan President Muammar Gaddafi's special forces.
Thirty current and former police officers and soldiers are suspected of instructing Libyan police during their vacation time and without the knowledge of their superiors, according to a flurry of media reports over the last several days. They were paid an estimated 15,000 euros ($23,500) each for their services.
The firm BDB Protection, which no longer exists, reportedly informed the German embassy in Tripoli of its training seminars. The precise nature of the information disclosed is under investigation. It is unclear whether the clandestine activities constitute a crime.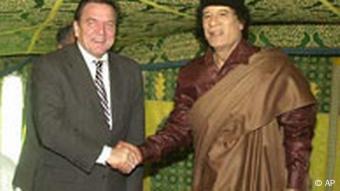 Schroeder, pictured here with Gaddafi in 2004, said they didn't make a police training deal
State prosecutors in North Rhine-Westphalia have begun preliminary investigation into eight police officers from that state; one faces criminal charges of divulging classified information. A Berlin-based sergeant in the German military has also been suspended from duty due to suspected involvement in the affair, the defense department said.
Accusations against Schroeder rebutted
Wilhelm also denied reports that then-Chancellor Gerhard Schroeder had made a deal with Gaddafi to provide police training. He said, however, that Germany and Libya had cooperated over the past several years on security issues, including counter-terrorism, organized crime and drug smuggling.
The weekly German newspaper Bild am Sonntag reported that Schroeder had made an arrangement with Gaddafi in 2003 to repay Libya for negotiating the release of three German hostages kidnapped by Muslim militants in the Philippines.
Schroeder, the foreign ministry and the BND, Germany's foreign intelligence service, have denied the allegation. The former chancellor has threatened to sue the paper for what he claims is a falsified report.
Press divided on whether to be appalled
As politicians across the spectrum demand an explanation from authorities and a thorough investigation, the daily Berliner Morgenpost in its Tuesday edition asked, "Where's the scandal?
"On the one hand, we accuse our secret service of not having any good contacts, but on the other hand, we complain when they develop some. What's the matter with a former rogue country slowly being brought back to relative normalcy?"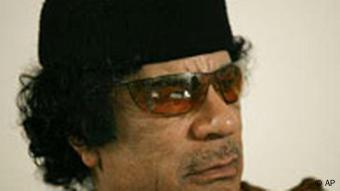 Gaddafi has come under fire for human rights abuses in Libya
It's reassuring that the Libyans were trained according to German security standards, and not American, Russian, or Chinese," opined the paper.
Die Frankfurter Rundschau, on the other hand, wrote on Tuesday that "the democratic state should not let its power monopoly be challenged -- either by demonstrators within its borders or by active or former public 'servants' who sell abroad for profit what they learned on the job.
"The state has to be able to decide who it wants to support with its security expertise," concluded the paper: "It owes it to its superiors -- the people."
Talks planned in German parliament
Libya was added to the United States' list of state sponsors of terrorism after the Sept. 11, 2001 terrorist attacks, but removed in 2006. Formerly considered a pariah state, it has more recently renounced terrorism and improved relations with the West. Nevertheless, it regularly comes under fire for the state of human rights under Gaddafi.
The German parliament, the Bundestag, is set to discuss the police training allegations on Wednesday.