The Alice Salomon Hochschule, a college in Berlin, has decided to remove a controversial poem from its facade, a decision that has been highly criticized by the German commissioner for culture and media.
"Art and culture need freedom; they need discourse. That's one of the most important lessons of history," Culture Minister Monika Grütters said late Wednesday. Undermining this fundamental right in the name of alleged political correctness is a "dangerous game," she added, criticizing the college's decision to paint over the poem as a "frightening act of cultural barbarism."
Read more: Poem on Berlin college wall sparks sexism debate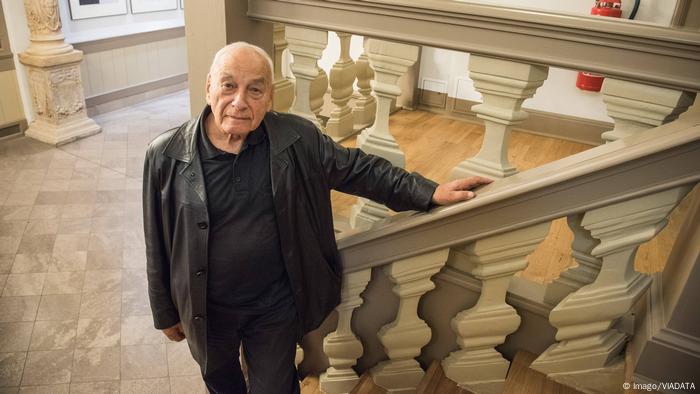 Gomringer has supported the debate surrounding his poem
Controversial admirer
The poem, titled "avenidas," translates as: "Avenues / Avenues and flowers / Flowers / Flowers and women / Avenues / Avenues and women / Avenues and flowers and women and an admirer."
It was written by Bolivian-Swiss poet Eugen Gomringer in 1951. Gomringer, now 92, is regarded as the founder of concrete poetry, in which graphic space and typographical effects are key. "avenidas" is one of his key works.
The Alice Salomon Hochschule had awarded him the Alice Salomon Poetry Prize in 2011, and the poem was painted in large lettering on the south facade of the college that same year.
In 2016, students complained in an open letter about the fact that the "poem not only reproduces a classic patriarchal art tradition in which women are exclusively the beautiful muses that inspire masculine artists to creative acts, it is also reminiscent of sexual harassment, which women are exposed to every day."
Read more: German Justice Minister Maas slammed over proposed 'sexist advert' ban
A compromise
Reacting to the heated debated following the complaints, the college's Academic Senate has decided to replace the poem with one written by Barbara Köhler, the recipient of the Alice Salomon Poetry Prize in 2017. The mural will be renewed every five years.
Gomringer's "avenidas" will not completely disappear, either. A compromise has been reached in consultation with the poet. The college has decided to create a panel featuring his poem in Spanish, German and English that will be installed underneath Köhler's work on the building's facade, allowing the debate surrounding the poem to be remembered and pursued.
In an interview in September, Gomringer supported the debate around his work, telling the Süddeutsche Zeitung "it was always my goal to achieve such an effect with such few words."
The college's Academic Senate views this decision as a "clear commitment to art," said Alice Salomon Hochschule director Uwe Bettig.
Read more: #PadsAgainstSexism — Karlsruhe teen launches campaign to banish taboos