The 10th Berlin Biennale for Contemporary Art is directed by a black curatorial team. They include Gabi Ngcobo of South Africa, Serubiri Moses of Uganda, American Nomaduma Rosa Masilela, Thiago de Paula Souza of Brazil and Yvette Mutumba of Germany. They are clear about one matter: they will not tolerate cliches. DW spoke with Mutumba, who is founder of the website Contemporary And (C&), which focuses on contemporary international art productions.
DW: The first Berlin Biennale took place in 1998 and was led by Klaus Biesenbach, along with curators Nancy Spector and Hans Ulrich Obrist. It was dominated primarily by white Europeans. This time, Gabi Ngcobo is joined by four other curators with an African background. Is this a statement?
Mutumba: It's a statement on the part of Berlin Biennale that they chose Gabi Ngcobo as curator. I think that is part of the trend of global art that goes beyond Europe and the US. There has been an intense reaction to there being five "Afro-" curators. But it's really important to us to stress that "being black" is not our expertise. Of course, the selection of artists will be a different one than during the other Biennale festivals. But that has more to do with the fact that we are interested in debates and artistic positions that are connected with our realities.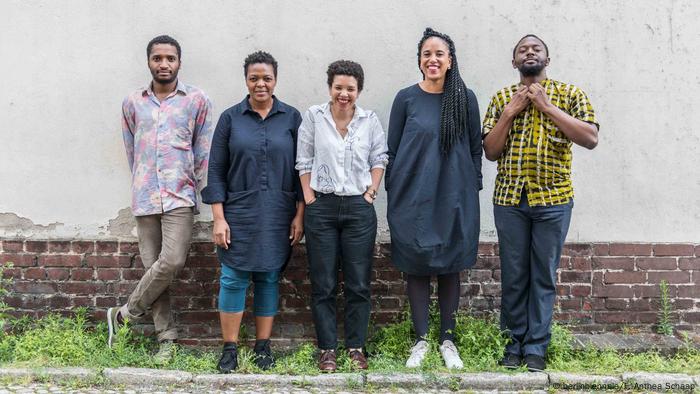 The curatorial team comes from five different countries
We are all very experienced curators and art teachers and work in the art field, so of course we are not focused solely on being black. These intense reactions show there is still a lot of hierarchies and perceptions at play — even if those in the art world would not admit to that because it considers itself so international. We are consciously resisting that. We have deliberately chosen not to use words such as Africa, postcolonialism, colonialism and diversity. Even if there are important political topics involved, we are still trying to take a step forward and define our own language.
Processing the colonial legacy is an important subject, in Berlin and elsewhere. The Ethnological Museum has faced demands for the return of artifacts, and the Humboldt Forum is also explicitly addressing the issue. Does that topic also play a role at the Biennale?
When it became clear that not only Gabi, but all of us would be together on the team, the question was posed: "How are you going to decolonize the Biennale?" That is not our job. But we are questioning the terms and trying to develop a new language. There are so many institutions now that are focusing on decolonization. In some cases, it's not even clear what is meant by the term. It's like checking things off the list: you hold a conference, you invite people to attend and then you move on. We want to go a little deeper than that.
If you want to talk about true decolonization, then it will have to hurt. And that should come from the institution. We cannot say: "We're going to tell you how you have to do it." We are all moving along in a postcolonial context. And not only us, but also the institutions where perhaps only white curators work.
Read more: 'Unbuilding Walls': Healing divisions with architecture at the Venice Biennale
What about the list of participating artists? Will there be many black artists?
If you look at the list, you'll notice that many of the artists come from the African diaspora or the Caribbean. But this was a natural process. We contemplated things like: what's important to us? What are we interested in right now? What positions reflect that? How are they connected to certain histories and the here-and-now? There are approaches, for example, by Zuleikha Chaudhari and Firelei Baez of the Academy of Arts that focus concretely on Berlin and Germany. But they also illuminate systems of knowledge that are so taken for granted in Europe in an entirely new way and on a meta-level.
Could you be a little more concrete about the topics? The title is "We Don't Need Another Hero," based on a song by Tina Turner. So we don't need heroes anymore, no saviors?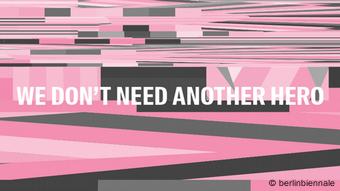 The exhibition's title is intended to have a double meaning
I won't say the Biennale is focused around one specific topic. I don't think that "We Don't Need Another Hero" is meant negatively in the sense of "all of you heroes are annoying." Instead, I think it's meant positively: that we can achieve a lot together as a group. That we can be understood on the micro level, in the sense of us as a group of curators. But it can also be about other people who identify with how we speak and how we approach things. It's the "we" of the artists. The "we" can be both a small and a large group. We have addressed that both in the exhibition and the series of events.
From a global perspective, there is now a huge search for a guiding figure in the political realm. You are highlighting the opposite approach. Can we learn from the artists?
Gabi Ngcobo very deliberately chose to work with a team, because she never really works alone. She always works collaboratively on projects. She has worked with all of us already, and together we have curated other major exhibitions before.
When the group of curators became clear, and that they are all black, we knew there would be a set of expectations. That's why the title is intended to buck those notions. And the series of events that have been going on for the past year in the lead-up to this Biennale is deliberately called, "I am not who you think I am not." It's a double negation intended to mean that everything is a little more complicated than one thinks, and more complicated than the simple questions of "who are we, what are we doing, and what do we think?" imply.