Following the Gallery Weekend in spring, the Berlin Art Week in autumn has established itself as one of the German capital's two major visual arts festivals. From September 26-30, the seventh Berlin Art Week seeks again to attract art lovers from all over the world with contemporary art exhibitions and fairs.
Visitors can expect large-scale exhibitions featuring established artists — including solo shows by Lee Bul at Gropius Bau, Agnieszka Polska at Hamburger Bahnhof and Julian Charrière at the Berlinische Galerie — as well as presentations of yet-to-be-discovered artists across diverse genres.
In addition to the Art Berlin and Positions Berlin Art Fair pitched to international buyers, 15 museums and exhibition halls, almost 70 galleries, a theater and 11 Berlin private collections are open to visitors.
All of this is despite the fact that, unlike the highly successful Gallery Weekend, Berlin Art Week is still establishing itself on the international art calendar.
"Monster: Pink" by South Korean artist, Lee Bul, who will be on show at the Gropius Bau as part of Berlin Art Week
This year, the event hung by a thread due to security planning issues, and difficulties finding suitable venues for the two fairs. But with Art Berlin now organized for the first time by the more commercially robust Art Cologne, Berlin's major autumn art fair has a more secure footing.
Moritz van Dülmen, Managing Director of Kulturprojekte Berlin and co-responsible for the organization of Berlin Art Week, talked to DW about what makes this citywide art extravaganza distinctive from its more storied cousins in Basel or London.
DW: The Berlin Art Week bills itself as a curtain raiser to the autumn art season globally. It's a high standard to live up to. Can the seventh event finally compete with the likes of Basel?
Moritz van Dülmen: Comparisons with the big exhibition venues aren't quite appropriate. That is not our goal. The special feature of the Berlin Art Week is the interaction of the commercial players — ie. the two major fairs Art Berlin and Positions Berlin — and large museums with small project spaces and small collectors. Selling as in London or Basel plays a role in Berlin, but is not the crucial factor.
Read more: Is an art fair war on the horizon in Germany?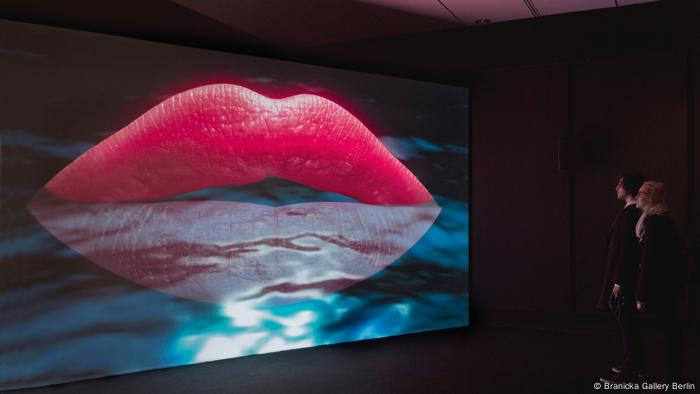 "I am the moutch II" by Polish video artist Agnieszka Polska, who will be on show at the Hamburger Bahnhof. In 2017 she won the Preis der Nationalgalerie, which is awarded to Berlin-based artists under 40.
So that means Berlin does not claim to be on same the level of Art Basel, for instance?
Berlin Art Week focuses on both art production and markets in Berlin. It's all about the mix. It is not a sales platform as we know it from the big fairs in Basel or London, but is ultimately about bringing together all art producers in the great art city of Berlin and allow for a week of open days. It's this great mix that contributes to Berlin's reputation as an art city.
Which partners from the Berlin art scene are particularly important this year?
Again this year, there's the Hamburger Bahnhof, the House of World Cultures, the Gropius Bau, the Berlinische Galerie, C / O Berlin and others. These are the city's big brands to which new partners are added each time; for example the Berliner Festspiele this year, or the PalaisPopulaire newly opened by Deutsche Bank on Unter den Linden.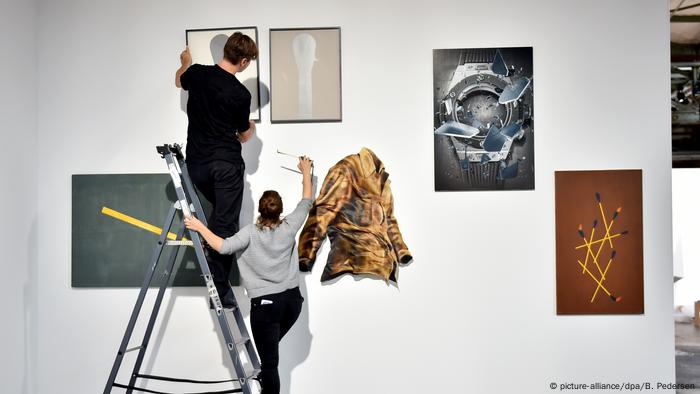 Hanging works for the 2017 edition of Berlin Art Week
It's long been said that Berlin famously attracts artists from all over the world, but that it does not have a functioning art market that can actually feed its artists and galleries. Does the fact that Art Cologne has now taken over Art Berlin underline this economic weakness?
For some it seems strange that the Cologne fair organizes something in Berlin. For us, it is a stroke of luck that the more stable Art Cologne is committed to the art market in Berlin, and that Art Berlin is laying the foundation for further growth.
And if we look back in history, I believe this is part of a constant revival of the Berlin art market. Until the 1930s, Berlin was anyway the German art center. The problems today are due to the aftermath of division when the whole gallery business then migrated to Cologne. It takes time to catch up. Even 28 years after the fall of the Berlin Wall, these fractures can still be felt.
Art Berlin is an attempt to appeal to a larger audience, and to buyers. We are progressing bit by bit. But there is still room for improvement.