"This looks like Paris," my son gushes as we climb up the narrow stairway of the Henri Hotel. The stairs are carpeted in dark red, the wood banister curves elegantly upward, the light is dim.
Let's pretend we're on vacation
Once we have reached our floor, we cross the creaky wood floorboards to our room, which has high stucco ceilings and period furniture from the Wilhelminian era, including a canopy bed. A small balcony behind a double wing door offers a view of, well, not Notre-Dame Cathedral or the Louvre, but part of Berlin's famous Kurfürstendamm shopping avenue, affectionately called Ku'damm.
Brrrr, a glimpse of Berlin's cold reality. Back indoors, quick! The hotel appears like a different reality to me, the illusion of an idyllic world in an all too familiar surrounding, replete with rough edges that have given me many a bruise.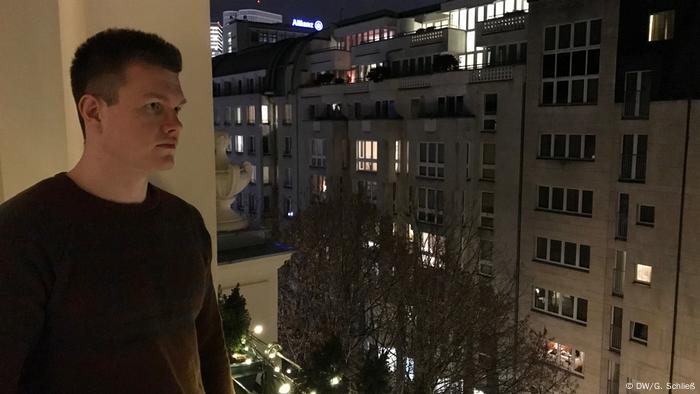 A glimpse of the city from a new angle
As the hotel's managing director Eckhart Buss later put it, they pretend to be in the Wilhelminian era. At an evening reception, Buss tells us all about the challenging renovation of the building.
Ok, I tell myself, let him pretend this is the Wilhelminian era; I'm pretending to be on a vacation in the very city I live in.
You think that's crazy or even bizarre? Well, so do I. And it's awesome.
"Erlebe deine Stadt" ("Experience your city"): almost 7,000 Berliners followed my example for the eight edition of this city marketing event, swapping their apartments for a hotel room for a night.
It feels like Sunday
Altogether, 82 hotels participated, including "my" Henri Hotel on Meineke Street, in the western part of Berlin. Peter Fonda and Peter Ustinov top the list of famous guests who once stayed there.
To me, it feels like a Sunday for my soul. It started right when I left my apartment in the Prenzlauer Berg district and took the number 200 bus for an extremely relaxing ride, past the re-opened state opera and endless construction sites.
The lyrics of a Peter Fox song came to mind, a quasi hymn to the city: "Berlin, du kannst so hässlich sein, so dreckig und grau." ("Berlin, you can be so ugly, so dirty and gray"). But on this Saturday afternoon, I couldn't care less, not even about the drizzling rain that usually gets on my nerves. Somehow, Berlin just felt different. I felt I was on a vacation even before I reached the hotel. And that feeling made me look at this gray behemoth in a more relaxed fashion.
A guy with the flat cap who joins me for dinner at my table seems to feel the same way. He lives in the artsy, lively Kreuzberg district. He spent the entire day walking up and down Ku'damm, he says — something he wouldn't do under normal circumstances.
Berliners have the reputation of only leaving their immediate neighborhood in an emergency. At the top of the emergency list: weekend bar-hopping.
Nostalgia for the old, bourgeois Berlin led a couple from the Mitte district to the hotel. The wife, her hair up in a bun, says she is a true Berliner, adding she hasn't been in the Ku'damm area for quite a while. It's a question of time, and a 15-minute bus ride sounds insurmountable, right? But that can be managed at least once a year. She visited the Käthe Kollwitz Museum and the Hard Rock Cafe coffee shop.
However, she says she avoided Breitscheidplatz square, where a terrorist attack on a Christmas market in December 2016 killed 12 people. She happened to be right there an hour before the attack. That, she says, nailed it for her.
I enjoy my dinner with typical Berlin dishes including meatballs, pea soup and herring salad. Maybe a bit too much of Berlin all at once? Perhaps, but that's a must on a Berlin vacation.
Bread rolls and misty eyes
The next morning, everybody is back in the breakfast room, smiling and enjoying their "Schrippe," the Berliners' word for bread roll. This time, breakfast takes a bit longer, also for me. I feel a strong urge to just remain seated in this beautiful world in the middle of my rough hometown. Just one more bun with salmon and one more cup of coffee. I continue to delay my farewell.
Then, it's 1 p.m., check-out time and back to reality.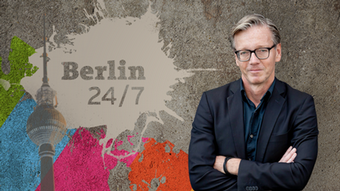 DW columnist Gero Schliess
Have a safe trip home, says the man at the reception desk. It's not that far after all. But then, something unforeseen happens to me on my way home. Suddenly, I feel a new kind of connectedness to Berlin. For the first time since I moved here a year and a half ago, I feel something akin to feeling at home since. That's what can happen when one spends a vacation in one's own city.
The stay in the Henri Hotel was organized by Visit Berlin.