Some of the more than 500 people gathered in support of and opposition to new US President Donald Trump began hitting one another over the head with wooden sticks in skirmishes that left at least seven injured in the California college town of Berkeley on Saturday. Trump's supporters also doused their opponents with pepper spray.
"We've made a number of arrests," Berkeley Police Department spokesman Dylan White said late Saturday. "It's one of those things where we monitor the situation and take action as necessary."
Spirit of America - also known as "March 4 Trump" - rallies took place in communities in an estimated 28 of the 50 US states. Organizers planned for smaller turnouts than the huge protests against the new president that clogged the streets of the capital, Washington, DC, and other cities the day after the Republican's inauguration on January 20.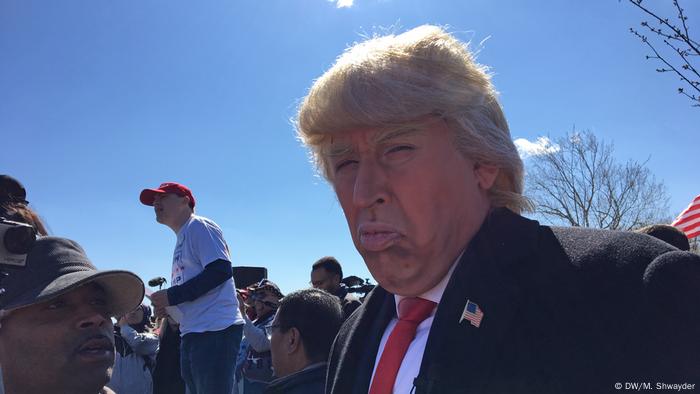 Trump was not there at the Washington march, but an impersonator was
'Yes, he is'
Dozens feted Trump in Denver, more than 100 people waved signs in Washington, and hundreds took to the streets near Trump's Mar-a-Lago estate in Florida on Saturday. In Manhattan, a couple hundred supporters gathered in front of Trump's eponymous tower and chanted "U-S-A" and held signs reminding Americans that "yes, he is our president." More than 200 supporters of the president rallied in downtown San Diego.
Immigration was a main theme of speeches at the rally in Washington
In many towns and cities, the rallies did not draw more than a few hundred people, and in several places anti-Trump protesters outnumbered the president's supporters. Though most of Saturday's rallies did not draw enough people on either side to create a disturbance, several disturbing incidents occurred in scattered US communities. Demonstrators on both side exchanged profanities with one another outside of Trump's Mar-a-Lago refuge.
Counterdemonstrators in Minnesota met 400 Trump supporters near the state capitol in St. Paul, the Star Tribune reported; scuffles erupted, according to the newspaper, and police arrested six opposition protesters. State troopers made two arrests in Nashville, Tennessee, as Trump supporters and counterprotesters cursed at each other and occasionally made physical contact. The Washington State Patrol reported arresting four demonstrators on Saturday in the capital, Olympia, at a rally in support of Trump, according to KOMO-TV.
mkg/jlw (Reuters, AP)