Belgium paid a sharply higher interest rate on government bonds on Monday, days after lawmakers agreed on a budget for 2012 that would meet European Union standards.
A bond auction easily raised 2 billion euros ($2.67 billion), but interest on 10-year bonds rose to 5.66 percent, up from 4.37 percent in last month's equivalent auction.
Standard & Poor's recently downgraded Belgium's credit rating from AA+ to AA, citing concerns about future exports and the ability of rival parties to form an effective government.
"The ability of authorities to respond to potential economic pressures from inside and outside of Belgium ... in our opinion is constrained by the repeated failure of attempts to form a new government," a statement from the agency said.
However, Belgian Finance Minister Didier Reynders claimed the downgrade was due to a "global loss of confidence" in eurozone public finances. He insisted that the creditworthiness of Belgium was among "one of the strongest in Europe."
Budget breakthrough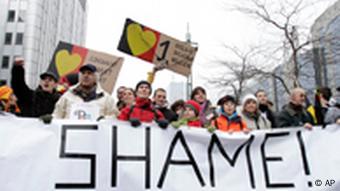 Belgium's record political crisis has inspired protests for compromise
Meanwhile Elio Di Rupo, leader of the French-speaking Socialists, told a news conference on Sunday that lawmakers' budget plan would have a deficit of 2.8 percent of gross domestic product, within the 3-percent limit prescribed by the European Stability and Growth Pact.
The budget includes 10 percent budget cuts totaling 11.3 billion euros ($15 billion), which Di Rupo said puts Belgium on track to have a balanced budget by 2015. He is now expected to lead a grand coalition with center and center-right parties.
"We hope to get a government in the coming week," Di Rupo said after a 19-hour negotiating session on the weekend. "We still have to work on several issues and hope to conclude within the shortest time possible... Each and every one will have to do a lot to get out of the crisis."
Belgium has gotten by with a caretaker government since June 13, 2010, after parliamentary elections produced a stalemate between parties representing the country's 6.5 million Dutch speakers and 4.5 million French speakers.
EU Economy Commissioner Olli Rehn released a statement welcoming the budget and urging the government to implement it swiftly.
Author: Andrew Bowen, Richard Connor (AP, dpa)
Editor: Martin Kuebler