Rammstein's music could "destroy the Belarusian state system," said the country's Council for Morality on Monday.
The Council described the band's songs as propaganda for "violence, masochism, homosexuality and other abnormalities" and said "permitting a Rammstein concert would be a costly mistake."
The German group, which is known for the sexual and violent nature of its lyrics, was scheduled to perform at Minsk Arena on March 7.
Writer Nikolai Tcherginez, head of the government's Council for Morality said he regretted that tickets had already been sold for the concert, but that if the event were to take place, the program would need to be revised in order to prevent "extremism."
Belarus is a former Soviet republic and has been ruled since 1994 by President Alexander Lukashenko, who has been referred to as Europe's "last dictator." The country's Council for Morality, a state-sponsored censorship agency, was founded in 2009 and has been accused of suppressing freedom of opinion.
Youth warnings in Germany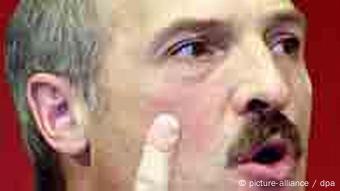 Lukashenko has been called "Europe's last dictator"
The Rammstein concert organizers told the Interfax-West news agency on Monday that they had "no information that Rammstein will spread violet, perverse, cruel or Nazi ideology at their concert in Minsk."
In 2009, Rammstein's album "Liebe ist fuer alle da" ("Love is there for everyone") was added to Germany's index for media that is harmful to youth. The song "Ich tue dir weh" ("I'll hurt you") describes violent, sadomasochistic acts, while "Pussy" contains blatant pornographic references.
The album was marketed as a set together with dildos, handcuffs, and lubricant.
Rammstein's current tour takes them through a variety of eastern European cities, including Moscow, Riga, Vilnius, Kyiv and Budapest.
Author: Kate Bowen
Editor: Chuck Penfold