Satellite images released by ImageSat International late on Tuesday showed two batteries of eight missile launchers and a radar system on Woody Island - part of the contested Paracel Islands in the South China Sea.
A US official confirmed that the satellite images showed the HQ-9 air defense system, which has a range of around 200 kilometers (124 miles), American network Fox News reported.
According to the report, the missiles appeared to have been installed between February 3 and February 14.
Taiwan's Defense Ministry confirmed the deployment, calling on all interested parties "to work collaboratively to maintain peace and stability in the South China Sea region."
"They should avoid any unilateral move that would increase tensions," Taiwan's Defense Ministry spokesman Maj. Gen. David Lo added.
"There is every evidence, every day that there has been an increase of militarization of one kind or another," US Secretary of State John Kerry told reporters on Wednesday. "It's of serious concern."
Kerry said over the next days the US would have "very serious conversations" with the Chinese.
Australian Foreign Minister Julie Bishop, who is currently visiting China, also called for restraint in the region and urged all sides to settle the discord peacefully. She added that Australia does not take sides in the South China Sea dispute.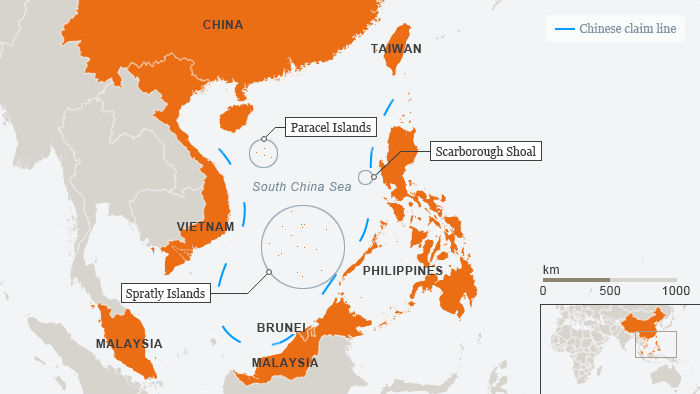 Without confirming details of the deployment, Chinese Foreign Minister Wang Yi said China had "limited and necessary self-defense facilities" on islands and reefs where the Asian giant claims sovereignty.
He said any defense facilities were "consistent with the right to self-protection that China is entitled to under international law."
Wang added the reports had been created by certain Western media, while Reuters news agency reported a Chinese defense official calling the reports "hype."
Growing tensions
Beijing's alleged latest move is likely to strain relations in a region where China has carried out a controversial land reclamation project in recent months.
Tensions have continued to grow between Washington and Beijing since China claimed sovereignty over virtually all of the resource-rich South China Sea - parts of which have also been claimed by Vietnam, Malaysia, Brunei, the Philippines and non-ASEAN member Taiwan. Some $5 trillion (4.62 trillion euros) of ship-borne trade passes through the waters every year.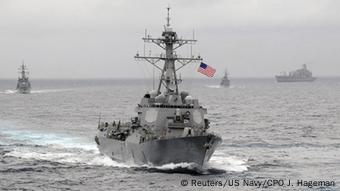 The US recently angered China by sending a warship within the 12-nautical-mile territorial limit around Subi Reef.
Since 2013, Beijing has also hastened the creation of new outposts, by piling sand on top of reefs and coral atolls. Buildings, ports, and airstrips large enough to handle bombers and fighter jets have also been built on the islands - activities seen as a bid to alter the territorial status quo by altering the geography.
The United States believes that China's island-building could threaten navigation within the disputed area, as one of the busiest trade routes in the world passes through the South China Sea.
Washington recently angered China by sending a warship within the 12-nautical-mile (22-kilometer, 13-statute-mile) territorial limit around Subi Reef in the Spratly Islands archipelago, where China and the Philippines have competing territorial claims. At the time, a Chinese Defense Ministry spokesman called the move "a deliberate provocation." The United States said the move was to ensure the free navigation of ships in the region.
'Peaceful resolution'
The discovery of the HQ-9 air defense system on Tuesday came as US President Barack Obama and leaders of Southeast Asia concluded a "Special Leaders' Summit" in California, during which Obama called for "tangible steps" to "peacefully resolve" disputes in the South China Sea.
The United States and ASEAN affirmed a "shared commitment to peaceful resolution of disputes, including full respect for legal and diplomatic processes, without resorting to the threat or use of force," a joint statement said.
ksb/sms (AP, dpa)