Da-Da-Da-DUM — hardly any succession of notes is as famous around the world as the one at the beginning of Ludwig van Beethoven's Fifth Symphony.

If Beethoven had been alive today, he would have become rich through royalties alone: mobile phone ringtones, musical arrangements of all styles, prints of his music on bags, cups and umbrellas. Not to mention the proceeds from the right to perform his works. For instance, at this year's Beethovenfest in Bonn, the composer's Fifth Symphony can be heard in both its original and in modern arrangements.
Read more: Beethovenfest kicks off in Bonn with quietly dramatic opening
Why a symphony of destiny?
The Symphony No. 5 in C minor from 1808 has gone down in music history as the Symphony of Fate. It is a central work for the Beethovenfest, which this year has as its motto "Fate." The fact that the symphony bears this epithet is above all due to Beethoven's secretary and biographer, Anton Schindler. When he asked Beethoven about the opening motif of the Fifth Symphony, the composer is said to have replied: "This is the sound of fate knocking at the door."
For Jens Dufner, research assistant at the Beethoven-Haus in Bonn, this concept of fate is problematic: "Anton Schindler was a shady figure," said Dufner. Although he was indeed a contemporary of the time who should generally be taken seriously, Dufner thinks Schindler presented his relationship to Beethoven in a different way than it really was. "Over the course of the years, he made ever greater attempts to portray his closeness to Beethoven and to embellish more and more things."
Nine years before the publication of the famous quote, Schindler had written an article about Beethoven's Fifth and his own listening experience, in which he said it felt this music was about the struggle of a hero with fate. "The alleged Beethoven quote comes much later," said Dufner. "That makes us suspicious." Musicologist Michael Stuck-Schloen suspects Beethoven — even if the quote really came from him — only wanted to get rid of his intrusive biographer with this short answer.
Beethoven's own fate: Deafness
What's certain is that the symphony was written at a time when Beethoven was already hard of hearing and suffering from tinnitus, or ringing in the ears. His condition began in 1798, and it took 16 years until he was completely deaf. During treatment at a health resort in Heiligenstadt in 1802, he wrote in his will: "There is little holding me back from ending my own life. It is only art that is keeping me going."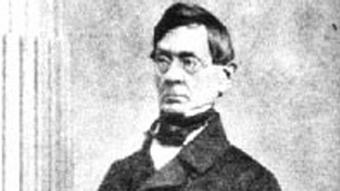 According to researcher Jens Dufner, Beethoven contemporary Anton Felix Schindler was a 'shady figure'
Even though at the time there were sketches of notes that were later used in the Fifth Symphony, Beethoven did not begin writing the work until much later, said Dufner. There is no evidence that the Heiligenstadt crisis had any influence on the symphony.
Jan Caeyers, a Belgian music historian, conductor and Beethoven biographer, describes how the composer had to completely change his life at that time. His career as a pianist ended with his deafness. This prompted him all the more to want to go down in history as a great composer and write music for eternity.
"This is where a phase in his life ends, and where a very great Beethoven begins," Caeyers told DW. "Without noticing, Beethoven developed a new orchestral language, went beyond the normal scope of the symphony, expanded the compositions, and his orchestral sound gained greater depth and intensity," he said. Beethoven wrote to a friend: "I want to grasp fate at the throat — it shouldn't bring me down completely."
Influence of the French Revolution
The image of a lonely person sitting there composing for himself is not true in Beethoven's case — at least not at a young age. He was interested in literature and philosophy, and above all, in politics. He was enthusiastic about the French Revolution and shared its ideals of freedom, equality and brotherhood. Beethoven often incorporated rhythms and motifs from French revolutionary music in his works — including, most likely, the four notes in the opening motif of his Fifth Symphony.
French conductor Francois-Xavier Roth and his orchestra Les Siecles interpret the symphony as a "revolutionary" work. "The wind, the storm that blows through this work, really comes from these new philosophical aspects of the French Revolution and explodes in the finale," Roth said. In France, Beethoven's exciting Fifth Symphony with its explosive ending in C major is not described as a "symphony of fate," but as a "chant de victoire" — a victory anthem or triumphal march.
Read more: Beethovenfest: Composers, their fates, their music
What Beethoven left to researchers
Roth and his orchestra performed Beethoven's Fifth Symphony at the 2016 Beethovenfest — with historical instruments from Beethoven's time, giving it a completely new sound. It's difficult to distance oneself from the usual sound images, in which the opening motif of the Fifth Symphony is always very pathetically overemphasized, said Roth.
"We must return to what is written here because Beethoven was very careful in his musical interpretation," he said. If he wanted something particularly stressed, then he wrote that down. "If, on the other hand, he wanted something to flow or follow a line, then he also wrote that down. It is fascinating to reread this score."
Dufner is an expert at reading scores with a fresh eye. At the research department of the Beethoven-Haus, he analyzes sketchbooks, autographs and transcripts of Beethoven's compositions, documents musical score sources and makes annotations.
Working on a complete edition of Beethoven's works in 2013, Dufner delved into the composer's Fifth and Sixth Symphonies — vastly different works but composed at the same time — and re-edited them.
And unlike the Fifth Symphony, Beethoven gave his Sixth Symphony an epithet. In 1809, Beethoven informed the publisher that the title of the symphony in F should be "Pastoral Symphony or memories of country, rather expressive of sensations than painting"," Dufner said. He said the composer's wishes are well-documented, while there is no indication at all that the Fifth Symphony he was writing at the same time has anything to do with an alleged fate. If Beethoven himself had wanted to emphasize fate in any way in this work, he would have noted it in the title or in the score.
'Insanely beautiful music'
The name Symphony of Fate persists, however. In the Romantic era, artists believed in the power of fate. Johannes Brahms quoted the main motif from Beethoven's Fifth Symphony in his Piano Quartet in C Minor when he was pining and lovesick. The Nazis liked the heroic and sublime nature of the music. After World War II, young composers shied away from such connotations and turned their backs on tradition and tonality. If they reverted to historic icons at all, they preferred Bach to Beethoven.
Beginning in the 1960s, conductor Herbert von Karajan recorded the Beethoven symphonies four times — the 1963 recording is in fact considered to be legendary.
Tastes change, and interpreting music as a soundscape like Karajan did has gone out of fashion. Today, researchers, performers and audiences are more interested in how the music would have sounded in Beethoven's day and age. "When I conduct the work, I wonder what Beethoven wanted to hear, and what this music has to say to us today," said Francois-Xavier Roth.
"You could teach classes analyzing Beethoven's music for years," said Caeyers. "At the same time, it is insanely beautiful music that goes straight to the heart."
From a purely emotional point of view, Beethoven's Fifth Symphony is inexorably linked to fate, which is how the work is marketed, not least at this year's Beethovenfest. "It is legitimate for someone to perceive this as a symphony of fate," said Dufner. "You just have to be aware of where it is coming from, and that it is problematic."
Ultimately, every performer and every listener associates personal experiences with Beethoven's work — perhaps even their own fate.
Beethovenfest runs from August 31 to September 23 in Bonn, Germany. DW is the festival's main media partner.