In its second year, the Beethoven Prize for Human Rights, Peace, Freedom, Combating Poverty, and Inclusion goes to a pianist who from Salzburg to New York, electrifies audiences with his Mozart and Beethoven. And as a composer, he incorporates complex Turkish rhythms and mellifluous Middle Eastern motifs into a jazzy swing sound - or baffles the listener with strangely nostalgic and mystical effects.
Fazil Say, 46, is nothing if not inclusive, a status that has given him some trouble in the increasingly polarized society of contemporary Turkey, where standing up for Western values can sometimes be dangerous. Say is an outspoken advocate of freedom of religion and opinion - and a critic of the policies of his government. He is a factor to be reckoned with, and his conviction for blasphemy was eventually suspended.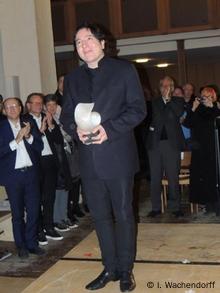 The Beethoven Prize also comes with a cash award of 10,000 euros
Regarding the sheer freshness of his musicality, whether playing the repertory or inventing new works, Fazil Say had an explanation for the audience in Bonn's Kreuzkirche (Church of the Cross), who had come there on Saturday (17.12.2016) to hear him and others: "My first piano teacher had an interesting approach. He'd begin every lesson by asking me, 'What have you experienced today?' and telling me to put it into music. That's how I learned to tell stories in music, and when I play Mozart or Beethoven, I find myself imagining what kind of stories they wanted to tell."
The arts in times of crisis
Inclusiveness is one qualifying category for the Beethoven Prize, awarded by the Beethoven Academy, with the proceeds of this event and others going to music projects in crisis regions. One such project was suggested by Aeham Ahmad, the winner of the first Beethoven Prize in December 2015, who wants to perform in a refugee camp in the Middle East.
The Syrian pianist had become a YouTube star after he dragged his piano onto a street in Yarmouk, a bombed-out refugee camp outside of Damascus to perform for war-weary citizens. After a perilous flight to Germany, he is now a recognized asylum seeker, reunited with his wife and children and performing concerts nearly daily.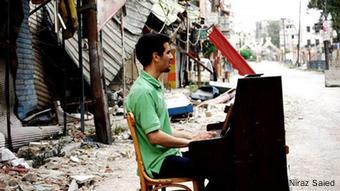 Hailed for his courage: Syrian pianist Aeham Ahmad
Although the pianist, singer and composer has written new music in the past year, "I still sing for Yarmouk," he says. "With the news from Aleppo, I feel ashamed thinking of my friends in Yarmouk, because I came here alone. I still want to remember my friends and to tell the people about the war in Syria."
Fazil Say, for his part, referred to the catastrophe there and to the three million Syrian refugees in Turkey. "I think it's good that the Beethoven Academy sees this drama. It's good not only for the people from Syria, but for Germany too."
Cat-proof trophy
Say points to the resurgent nationalism in Turkey as a present danger: "I am a bridge-builder between the cultures," he writes. "If you see cultures as enemies, as our government often does, that's where the war of cultures, of thought, begins. And that is the worst possible thing that can happen."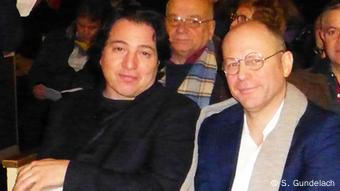 Fazil Say with Beethoven Academy director Torsten Schreiber
Taking the spiral-shaped trophy, the versatile Turkish artist quipped that although he's won many awards, his cats had knocked most of them down - but this one would be accorded a special place and survive.
He then went on to play his moving piano piece "Black Earth," sometimes reaching inside the grand piano to pluck the strings. Other artists also honored Say in the three-hour event, among them Aeham Ahmad, the young Greek pianist Theodosia Ntokou, the Turkish four-hand piano duo of Ferhan and Ferzan Önder and the Syrian singer Ibrahim Keivo.
The Beethoven Academy was founded in March 2016 by Torsten Schreiber of the Wasmuth Society in Rolandeck and by Andreas Loesch, President of the Festival of Young Artists in Bayreuth. Its first projects included musical master classes in the occupied West Bank in October 2016.