The 28-year-old Katharina Wagner, daughter of festival chief Wolfang Wagner, is also widely tipped to succeed her 87-year-old father on Bayreuth's famous green hill when he finally steps down. Katharina has directed Wagner operas before -- "Der fliegende Holländer" (The Flying Dutchman) in Würzburg in 2002 and "Lohengrin" in Budapest in 2003.
The legendary Bayreuth the summer music festival, dedicated exclusively to the works of Richard Wagner, runs from July 25 to August 28 and comprises 30 performances, all sold-out long in advance. The waiting list for tickets is currently over 10 years.
Father won't interfere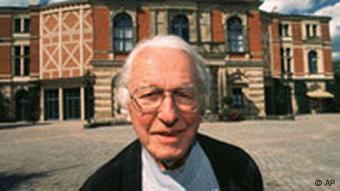 Wolfgang Wagner, before the 'Festspielhaus' theater in Bayreuth
This year will be Katharina's debut in the legendary Festspielhaus built to the Richard Wagner's own designs.
Bayreuth Festival spokesman Peter Emmerich said that, as a direct descendent of the composer, Katharina was "well aware that she must come up with something special," adding that she "has a strong will of interpretation that won't bow even to 'Meistersinger.'"
Katharina's production promised to turn on their head some of the cliches attached to the work and challenge traditional Wagner fans, Emmerich said. Wolfgang, who has himself directed three different stagings of "Meistersinger" in Bayreuth, had not interfered in Katharina's staging, he added.
Troupe of young novices
In the pit for the new production will be upcoming German conductor Sebastian Weigle, also making his debut in Bayreuth. Many of the mostly young cast of singers will also be singing in the hallowed auditorium for the first time as well, including German bass Franz Hawlata as Hans Sachs. A relative newcomer, US soprano Amanda Mace, is to sing the role of Eva.
The only Bayreuth veteran in the production will be US tenor Robert Dean Smith as Walther von Stolzing. Smith has trodden Bayreuth's boards before, in the equally taxing roles of Tristan, Lohengrin and Siegmund.
Katharina's partner, Endrik von Wottrich, is to star as Siegmund in the first revival of Tankred Dorst's complete four-part "Ring," which critics panned at its premiere last year.
Some old favorites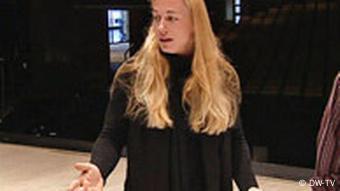 Katharina Wagner has big shoes to fill
US tenor Stephen Gould will return in the role of Siegfried as well US soprano Linda Watson as Brünnhilde while German star conductor Christian Thielemann, Bayreuth's unofficial musical director, is to be in the pit once again.
Italian conductor Fabio Luisi is to make his debut in a revival of Philip Arlaud's well-loved production of "Tannhäuser" with German tenor Wolfgang Millgramm in the title role.
The controversial production of "Parsifal" by Christoph Schlingensief, considered the enfant terrible of German theater, is being revived for the final time under the baton of Hungarian
conductor Adam Fischer.