Bayern Munich are at the forefront of plans to create a European Super League which could also feature Borussia Dortmund and Schalke, in a report by Football Leaks made public by German magazine Der Spiegel.
According to the report, Bayern instructed their lawyers to examine whether Bayern could withdraw from the Bundesliga. Michael Gerlinger, the club's chief legal counsel, added that no one was truly serious about the idea and that it was soon "completely off the table."
Questions were also asked as to whether the club would be obligated to release their players for international duty if they left UEFA.
The attorney added though, that the Super League was something different. As Der Spiegel reported this would involve "brands" playing against one another, which would mean a different level of commercialization, one that Bayern Munich, one of the biggest clubs in the world, would have to be a part of.
Bayern wouldn't be alone. Along with Real Madrid, Barcelona, Manchester United, Manchester City, Liverpool, Arsenal, Chelsea, Juventus, AC Milan and Paris Saint-Germain, 11 "founding members" immune from relegation would form the league. Borussia Dortmund are among a clutch of "invited teams" (along with Atletico Madrid, Olympique Marseille, Inter Milan and Roma) who would join but could be relegated into a second tier, the possibility of which is still being discussed.
These 16 clubs have been asked to sign a declaration of intent before the end of this month to join what would be a privately run Super League from 2021 onwards. Breaking away from their national associations and playing without the governance of UEFA would increase income for those involved.
These proposals, which come ahead of next year's talks over Champions League rights and the distribution of prize money in the new cycle from 2021, suggest that the league would run for 34 weeks, with games on Tuesdays, Wednesdays and Saturdays, and a knockout round at the end of the season.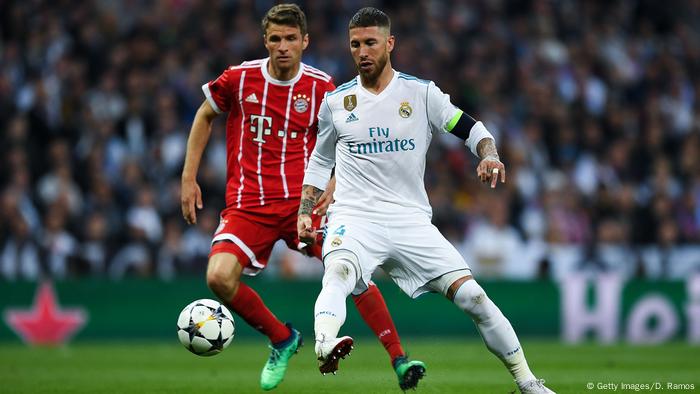 Could we soon see Bayern Munich against Real Madrid far more often?
Rummenigge's role
It is reported that in a meeting of the European Club Association (ECA) in February 2016, Bayern Munich CEO and then ECA chairman Karl-Heinz Rummenigge stated that the ECA and UEFA were striving for an "evolution of the competitions" and that there would be an "exchange of ideas... at different levels" and a few "informal working groups" would address the issue.
Der Spiegel report though that at the same time, international law firm Cleary Gottlieb was investigating, on behalf of Gerlinger, the legal issues surrounding the foundation of a Super League.
Bayern released a statement late on Friday in response to the reports, reiterating that they were "unaware of recent plans for a so-called Super League... nor has Bayern taken part in negotiations relating to such plans."
Rummenigge was quoted as saying: "Bayern Munich stands by its membership of the Bundesliga and, as long as I am chairman of the board of Bayern, also by the club competitions organised jointly by UEFA and the ECA."
Borussia Dortmund CEO Hans-Joachim Watzke did not comment directly on the report, saying only to Spiegel he believes "that some of the big clubs are working on it" but that plans were "not very concrete."
Could Bayern and co leave the Bundesliga?
While the Super League would likely replace the Champions League, it isn't exactly clear what would happen to domestic league competitions for the clubs involved.
When posed that question, Watzke told Der Spiegel: "For as long as I carry responsibility around here, BVB will not leave the Bundesliga." However, Watze also admitted that Dortmund has to "keep all its options open" because if a Super League ever became a reality "it couldn't happen without BVB."
However, a stumbling block for Dortmund and any other German club that intends to join the league is the immediate financial hit relating to players' contracts.
Player contracts in Germany contain a clause that binds them exclusively to the Bundesliga, and that theoretically could allow players to terminate their contracts unilaterally and switch teams without a transfer fee, potentially costing German teams that want to participate hundreds of millions of euros.
Months of work
These latest revelations from Football Leaks are a result of a remarkable 70 million documents being inspected by 80 journalists from 15 different media groups across 8 months, including work with members of European Investigative Collaborations (EIC).
There were also revelations made about UEFA and how the association knowingly helped Paris Saint-Germain and Manchester City get around their own Financial Fair Play (FFP) rules.
Each evening at 1830 UTC, DW's editors send out a selection of the day's hard news and quality feature journalism. You can sign up to receive it directly here.