It may have cost them every nerve, but Bayern Munich's dream of playing in the Champions League final in front of their home fans at Munich's Allianz Arena is still alive after their second-leg semifinal against Real Madrid was decided in a thrilling shootout.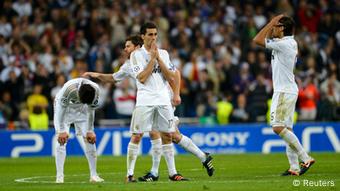 Madrid became the second Spanish powerhouse to fall in the semis
After convincingly winning the first leg 2-1 at home and feeling very good about their chances of advancing past the second leg at the Bernabeu, Bayern's confidence was rattled early in the contest when Madrid were awarded a penalty.
Five minutes in, Madrid's Marcelo passed across the pitch to Angel Di Maria, whose attempted shot glanced off the arm of David Alaba.
Alaba was given a yellow card and Madrid were given a penalty, which was taken by Christiano Ronaldo and converted into an early 1-0 lead to the delight of the home crowd. The card means Alaba will miss the final.
Less than ten minutes later, it was Ronaldo again, receiving a pass from German teammate Mesut Özil and coolly taking a final touch before firing past Bayern keeper Manuel Neuer.
Fourteen minutes in, Bayern were looking at a 2-0 deficit and a long night in Madrid. But Bayern's aggregate meant that even one goal would put them right back in contention, and Jupp Heynckes' men quickly regrouped and set down to the task at hand.
Bayern stay alive
In the 27th minute, Bayern's Mario Gomez broke for the goal on what looked like a promising run, prompted by a pass from Toni Kroos. Gomez was brought down in front of the area by Pepe, who was shown a yellow card. The ensuing penalty was Bayern's chance to get back in the game, and the team's Dutch striker Arjen Robben stepped up to the spot.
Bayern fans collectively sucked in their breath, for the image of Robben missing a penalty in a league game against eventual champions Borussia Dortmund two weeks ago was still fresh in their minds. Had Robben converted that penalty, Bayern would still conceivably be alive in the now-finished race for the Bundesliga title.
But Robben did not let his fans down again, sneaking his shot into the left corner off the fingertips of diving Real keeper Iker Casillas and reviving every fan's hope of seeing their team contest the final at home.
The rest of the first half featured aggressive, up-tempo soccer by both teams, with the fast pace creating problems for both defenses.
An even fight
After the break, however, play slowed down and the two sides were quite evenly matched, trading promising attacks but unable to find the back of the net.
Bayern had by far the best opportunity of the second half with five minutes to go. A pass from Alaba found Robben in plenty of space. He patiently set up a cross to Gomez in the middle, who was wide open but could not get a clean foot on the ball. That was the last real chance of the half, and the fight for the final went into extra time.
In the thirty minutes of extra time, the balanced fight continued, with neither side having a clear advantage. For Bayern, though, two yellow cards proved costly. Luiz Gustavo and Holger Badstuber were both booked, meaning they will miss the final along with David Alaba for accumulating too many yellow cards in the Champions League.
Neither side could gain an advantage in extra time, and the game went to penalties with a trip to the final on the line.
Neuer saves, Schweinsteiger finishes
Penalties for a goalkeeper are never easy affairs, and Manuel Neuer had one of the tallest orders imaginable. Real Madrid's first penalty takers were superstars Ronaldo and Kaka, with almost the entire stadium on their side.
But Neuer, no stranger to stress, blocked both of Real's opening penalties, putting Bayern in the driver's seat after the 19-year-old Alaba and Mario Gomez converted both of Bayern's first penalties.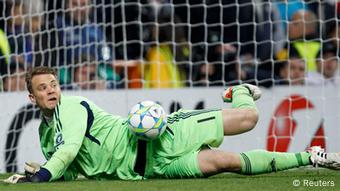 Neuer had two big saves against two big stars
"He got me once," said Neuer after the game, referring to Ronaldo's penalty in the first half, "so I had to get him back."
Real's keeper Casillas was not to be outdone, though, and brought his side back into the contest with two saves of his own against Toni Kroos and Philipp Lahm, who shot third and fourth for Bayern.
Sergio Ramos was fourth in line for Real Madrid, and his attempt sailed wide over the goal. Bastian Schweinsteiger was up next for Bayern, a man who had played all 120 minutes despite a recent spate of injuries and was surely running on fumes as he approached the penalty spot. With the game on the line, Schweinsteiger shook off any fatigue and converted Bayern's final penalty, deciding the thriller 3-1 in Bayern's favor.
"I've been in professional football for 40 years," said Bayern CEO Karl-Heinz Rummenigge, who played for Bayern and the German national team, "and I've never experienced anything like that. This tops everything we experienced in the 70s and 80s. I am very happy and very proud. That was top quality football."
Real Madrid are now the second Spanish giant to go down in the Champions League semifinals, with Barcelona falling on a 3-2 aggregate to Chelsea in Tuesday night's game.
Chelsea was likely rooting for Real on Wednesday night, as they now face the prospect of playing Bayern at home in the final.
Author: Matt Zuvela
Editor: Charlotte Chelsom-Pill