Ugly arterial roadways, big-city grime and dull suburbs exist in Bavaria as they do elsewhere in Germany. But they are balanced out by more pure, untouched nature than in any other German state.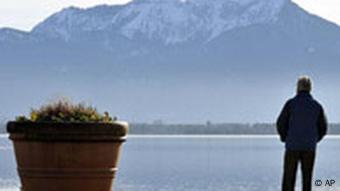 The Chiemsee lake offers gorgeous panoramas
The Alpine panoramas, with Germany's highest mountain, the Zugspitze, and the sheer rock faces of German-speaking Switzerland, are the public face of Bavaria - together with the flood plains of the Donau and Main rivers, and the lakes of Upper Bavaria, like the Chiemsee, Tegernsee, Ammersee, and Starnbergersee.
Bavaria is the most agricultural German state. More than 300,000 people work in agriculture here. In the countryside, old-fashioned farming structures have remained intact.
Tradition meets high-tech
And even if some young people are moving away from the farms, the individual cultural styles - the local Bavarian music and dress, including lederhosen and dirndl - still hold an important place in village life. In addition, the region's various dialects - Bavarian, Swabian and Frankish - are widely spoken.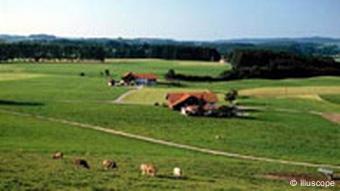 Bavaria is still Germany's most agricultural state
But the Bavarians don't want to be seen as a group of backward farmhands. The state has adopted the slogan "laptops and lederhosen," and that phrase sums up the harmonious mix of tradition and high-tech that is found side by side in Bavaria.
Indeed, 12 percent of Bavarians work in the high-tech industry. That's a high percentage by European standards. Companies like Siemens, EADS and BMW are based here.
Agricultural basis is strong
Still, the state has retained its agricultural basis. More than half of the land is used for farming, and Bavaria is the number-one food producer in Germany. More importantly, the state gets its character from the people in the countryside, not the cities.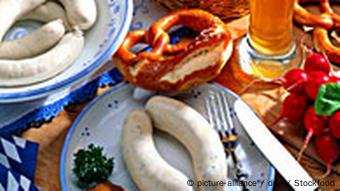 For Bavarians, this is a mid-morning snack
Bavaria has long voted overwhelmingly for conservative political parties. Since 1945, there has been just one prime minister in Bavaria who did not belong to the conservative CDU or CSU parties, but came from the left-wing SPD instead: Wilhelm Hoegner. Only in 2008 was the party challenged again.
Otherwise, the state continues to be called a "monarchy" by some - despite the fact that the last king of Bavaria abdicated his throne in 1918.