In 1993, the Bangladeshi author Taslima Nasreen wrote the novel "Lajja" (Shame), which offended many Muslims on the Indian subcontinent. The author had to go into hiding in India because of death threats by Bangladeshi Islamist groups.
Bangladesh's Islamists, however, were not as powerful in the early 1990s as they are today. Since the start of this year, they have killed three atheist bloggers in the South Asian country: Ananta Bijoy Das in May, Washiqur Rahman in March and Avijit Roy in February. All these young writers were hacked to death on the streets of Dhaka with impunity.
Since 2013, at least five bloggers have been attacked by Bangladeshi Islamists after the fundamentalist group Hefazat-e-Islam publicly sought the execution of secular writers who had organized mass protests against the rise of political Islam in the country.
So, when Nasreen, who is more famous and controversial than the slain bloggers, received death threats from Islamists, it must have worried her. And she admits it.
The 52-year-old author said she had wanted to meet Indian Home Minister Rajnath Singh after receiving death threats but didn't get any response.
Nasreen, who was born into a Muslim family, has lived in exile since 1994. She became globally famous after the publication of "Lajja," which is about anti-Hindu riots in Bangladesh after the demolition of the Babri Mosque in India in December 1992. Nasreen had spent a decade in Europe and the United States before the Indian government granted her a residence permit in 2004.
Growing intolerance
Freedom of speech is increasingly under threat not only in Bangladesh but in all of South Asia, experts say. In Bangladesh, however, the situation has become more violent than in the region's other countries. For the past few years, Islamists in the majority-Muslim country have been using all means to promote their extremist idea of Islam and to silence voices critical of political Islam. The trend, however, is not new.
"The death threats to Nasreen and the killings of secular thinkers in Dhaka reflect the growing jihadist influence in Bangladesh," Siegfried O. Wolf, a researcher at the University of Heidelberg's South Asia Institute, told DW. "Since the early 1990s, a silent but steady process of Islamization has been taking place in the country. The jihadists are trying to hijack the definition and interpretation of national identity in the Muslim-majority nation by undermining the concepts of secularism and liberal democracy - two of the founding principles of Bangladesh," he added.
Wolf, however, says that this phenomenon is not particular to Bangladesh. "Similar examples can be found in Pakistan, too. By anchoring Islam in the constitution and putting religion at the center of the social and political discourse, Pakistan and Bangladesh have gradually but effectively been transformed into intolerant Islamic states," he said.
Manish Tripati, an Indian literary agent, argues that free speech is at risk not only in Muslim countries, but also in India, which did not allow Nasreen to live in the state of West Bengal, where she had sought residence in the 1990s. "The sensitivity doesn't just concern Islam," Tripati told DW. "Indian painter Maqbool Fida Husain was forced to give up his Indian nationality after he received death threats from Hindu fanatics. Husain spent the last years of his life in the United Arab Emirates. Intolerance is very often rooted in ignorance," Tripati said.
'Pits of Islamic fundamentalism'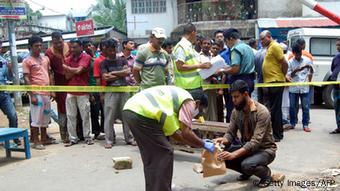 Three atheist bloggers have been killed in Bangladesh since the start of this year
Experts say that South Asian governments need to formulate a coherent strategy against religious fundamentalism if they want to stop fundamentalists from getting stronger.
"Half-hearted measures by the governments in Pakistan and Bangladesh to fight against Islamist extremism have largely been ineffective, especially if one looks at the mobilizing capacities of Islamists," Wolf said. "A national consensus and an engagement of all democratic and secular forces in these countries is also necessary. Last but not least, Bangladesh's decision-makers must come out of their 'state of denial' and act against militant religious groups," he said.
As long as this is not achieved, Bangladesh risks falling even deeper in the pits of Islamic fundamentalism, he added.