Shahidul Alam, who has judged DW's Bobs (Best of online activism) in the past, was picked up on Sunday by police from his apartment in the capital Dhaka. Rehnuma Ahmed, Alam's wife and fellow activist, told DW that police officials switched off their apartment's CCTV cameras before forcefully taking him to a car.
"They only took Alam; they did not touch anything else in the apartment. My husband didn't even have time to wear his sandals," Ahmed told DW immediately after the arrest on Sunday evening.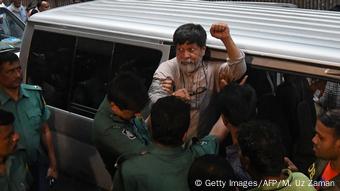 Photographer Shahidul Alam has extensively covered human rights issues in Bangladesh
Alam played an active role in an ongoing student protest that has rocked the South Asian country for the past few days. Bangladeshi school students took to the streets on July 29 demanding road safety after a speeding bus killed two teenagers. The young protesters were largely peaceful in the beginning but turned violent after authorities used force against them. Many students were injured following a Friday attack on them by pro-government activists.
Since Friday, the situation has changed dramatically, with university students also joining the protest. Political analysts say the protests also demonstrate an overall sense of anger against the administration and could be crucial to the outcome of the general elections, which are scheduled for the end of the year. The protests now appear to have transformed into a full-blown political crisis.
Read more: Bangladesh: Armed men attack US ambassador's car amid protests
Interview to foreign media and arrest
Alam covered the protest several times by going live on Facebook. On Saturday, he was attacked by Prime Minister Sheikh Hasina's supporters, who reportedly broke his camera. He survived the attack without a major injury and kept using social media to update his followers about the clashes.
On Sunday, Qatar-based Al-Jazeera news channel interviewed Alam to discuss the ongoing protests. In the interview, Alam severely criticized the government for not paying heed to the students' demands. He was picked up from his home just hours after the interview was broadcast.
Initially, the police denied arresting the photographer, but on Monday, Moshiur Rahman, a police official at Dhaka Metropolitan Police, admitted that Alam was in their custody.
"Alam has been brought to our office early this morning (Monday). We are interrogating him for giving false information to different media (channels) and for provocative comments," he told AFP news agency. Police have now filed a case against the activist. A court in Dhaka has also placed him on a seven-day remand for further interrogation.
Signs of a thaw
Alam has never been shy of criticizing Bangladeshi authorities on rampant human rights violations, especially under the controversial Information and Communication Technology (ICT) Act. In February, the government approved the draft of a contentious digital security law aimed at tackling digital crimes. But journalists fear the proposed law could be used to muzzle freedom of expression in the country.
Alam claimed the authorities denied him access to his lawyer.
"I was beaten (in custody). (They) washed my blood-stained clothes and then made me wear it again," Alam was seen as saying in a video clip.
Meanwhile, the government has hinted that it is willing to listen to the students' demands. On Monday, PM Hasina's cabinet approved a draft law that proposes to raise the maximum punishment for reckless driving to five years in prison from three. The draft law does not rule out the death sentence for drivers that intentionally kill someone.
However, the protesters are also demanding the resignation of a minister for his involvement in sheltering unlicensed drivers. The government hasn't paid heed to this demand.