The former German national captain has had to endure criticisms in the German press because of his decision to leave Bayern-Munich for Chelsea, where he is under contract until 2009.
Ahead of the match, commentator for the Bundesliga Phil Bonney predicted Ballack would get a heated reception from fans angry with hisGerman departure. And that's indeed what happened: throughout the match, travelling Bremen fans taunted Ballack with insults.
However, all that was soon forgotten after an impressive second half penalty shot to bring his new team to a 2-0 win against Bundesliga opponents Bremen.
Going into the match, Bremen coach Thomas Schaaf wished long-time rival Ballack well playing for Chelsea, but quickly added "but not for Tuesday evening."
Outcome of Tuesday night's game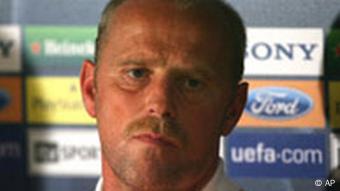 Schaaf sent Ballack his well-wishes, but not for Tuesday's game
Ballack stepped up as the penalty taker, taking over Chelsea usual Frank Lampard, who has had little success on the spot recently. Ballack's penalty goal added to midfield dynamo Michael Essien's 24th-minute strike from close range in the Group A match.
Bremen, renowned for their attacking flair, kept the pressure on the English champions and World Cup golden boot winner Miroslav Klose was particularly dangerous, hitting the bar with a header in the second half.
Despite their delight at winning, emotions were tempered by four yellow cards picked up by Chelsea key players Lampard, captain John Terry, Didier Drogba and substitute Joe Cole.
For an attacking side, Bremen held a tight back line for the first 20 minutes, keeping out strikers Andriy Shevchenko and Drogba and Chelsea's marauding midfielders.
It was an unfortunate tumble on Stamford Bridge's slick surface that allowed the home side through.
Lampard, driving through the middle, was dispossessed by defender Petri Pasanen but the Finn slipped in the area, poked the ball through to Essien and the Ghana midfielder slammed it home for his first Chelsea goal in European competition.
They opened up on the wings and tested Chelsea's defence with a rampaging run by Klose, whose shot ricocheted away for a corner off Khalid Boulahrouz's head. Minutes later defender Pierre Wome piled through the midfield and went close.
Ivan Klasnic and Brazilian Diego also had chances in the second half and it was as the Germans looked their most dangerous that Drogba earned the penalty on the counter-attack.
Ballack's form for the season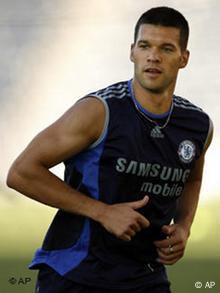 Ballack is now one of a number of top players on the Chelsea team
Looking ahead to the season, Phil Bonney predicted Ballack would ''fit in well'' with the Chelsea team, although ''he will have to get used to the pace of the English games.''
''Ballack is not the central star anymore,'' he added. ''He is now in a team of all-stars… but he knew what we was getting into when he went into the team,'' he said.
''He's played an OK start at the beginning, he still has a long way to go to prove and establish himself as an instant pick and it is games like this that give him the opportunity to do so,'' he said. ''They bought him because of his experience.''