The 29-year-old Ballack, who played in his country's 1-0 Euro 2008 qualifying win over the Republic of Ireland on Saturday, joined Chelsea on a free transfer from Bayern Munich in the summer and admits it has been a real culture shock.
"It really is something new for me," Ballack said in an interview with Welt am Sonntag. "As a family it changed the day we left Germany and I am still living in a hotel. It is not that easy to find something in London. I know that London is expensive but I am a well paid footballer so I am lucky."
Ballack, who led Germany to third place at the World Cup, was accused of joining Chelsea, bankrolled by Russian billionaire Roman Abramovich, for the money but said that was not the major factor.
"The main reason to come to England and Chelsea was to play with a great team," Ballack said. "Money and the chance to live in a city like London are additional factors."
A pin-up in his homeland -- where he is often plastered across the front pages -- Ballack admits he can often stroll through London without being recognized.
Unnoticed inLondon's crowds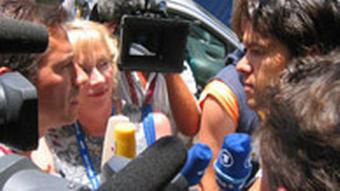 Ballack has no problem getting recognized in Germany
"A lot less people know me here than back in Germany but then again I have only just arrived," said the former Bayer Leverkusen man. "I already speak English but really need to improve. A few players speak with an accent and need to speak more slowly with me. I can understand the foreigners better as they speak more slowly."
Ballack also revealed that his Chelsea team-mates heard him sing a German song on his arrival at Stamford Bridge.
"It was recommended that I sing in German as no-one understands it," he said. "I did not think it was that bad."
Ballack injured his hip on his debut for Chelsea in the 2-1 Community Shield defeat to Liverpool but has since recovered and has his eye on trophies.
"I want to prove myself at Chelsea and be successful in the Premiership and the Champions League," he said.