Bahrain authorities have busted a network "formed and supported by the Iranian Revolutionary Guard," the official BNA agency reported on Saturday.
The Bahraini interior ministry said 116 people were arrested, with security forces seizing weapons and explosives in raids across the Gulf state.
The crackdown thwarted multiple terror plots, according to the report.
"The network was planning to target Bahraini officials, members of the security authorities and vital oil installations, with the objective of disturbing public security and harming the national economy," the interior ministry said in a statement.
Read more: Bahrain top activist jailed for 5 years over tweets
During the raids, police seized 42 kilograms (93 pounds) of high explosives, 757 kilograms of explosive-making materials, grenades, magnetic bombs, as well projectiles and vehicles. The authorities also discovered weapons, including pistols and several Kalashnikov rifles.
Officials claim that 48 of the 116 suspected militants received training in facilities ran by Iran's Revolutionary Guard and its allies.
A country divided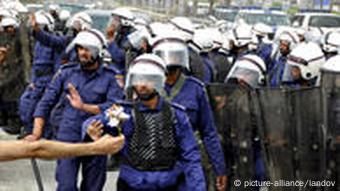 Bahrain faced mass protests in 2011
Bahrain is ruled by Sunnis despite having a Shiite-majority population. The country holds a key strategic position Iran and Saudi Arabia in the Persian Gulf and serves as the host for the US 5th fleet.
The Manama government has repeatedly accused Iran of trying to destabilize it, with Tehran denying the charges.
Read more: Bahrain shuts down newspaper amid opposition crackdown
Oil-rich Bahrain is still struggling with the aftermath of the 2011 Arab Spring. During the unrest, the country's Shiite population rallied against the Sunni-dominated government. In response, authorities launched a massive crackdown and called Saudi military to quash protests.
In recent years, Bahrain has faced bombings and small-scale attacks by Shiite militias. The country also launched a wave of arrests on against dissidents as well as suspected militants, with 47 people detained on terrorism charges in January.
dj/rc (dpa, AP, AFP, Reuters)