Ager Urigüen Uribe: "We're democratizing haute cuisine."
A born sommelier meets a passionate chef. One is Chilean with deep roots in Barcelona, and the other is Basque. Both are experts of haute cuisine. It's almost inevitable that the two will come together to present their united vision of Spanish hospitality.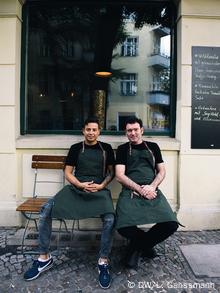 Giovanni Gonzalez Miranda and Ager Urigüen Uribe
Since 2013, Ager Urigüen Uribe has served up incomparable dishes at the restaurant Txokoa in Neukölln - and Giovanni Gonzales Miranda has been offering the perfect wine accompaniment. The culinary artworks and fluid delicacies are on offer in a relaxed atmosphere - as though one weren't just on a journey with friends, but at home with them.
Txokoa in Berlin's Neukölln district
The word "Txokoa," which can be a little bit of a challenge for the tongue, is Basque and translates roughly to "cozy corner." And it follows a Basque tradition: of renting a place with a kitchen with friends and cooking and celebrating together! And there, Giovanni Gonzalez Miranda and Ager Urigüen Uribe are hosts and friends alike.

Bacalao al pil pil
Serves 4
Ingredients:
4 pieces salt-cured cod of approximately 100-150 g each
3 cups Spanish extra-virgin olive oil
3 cups cod skin and fish bones
3 cloves garlic
Half of dry red árbol chile or guindilla pepper, thinly sliced or crumbled
Preparation:
Place salted cod in water two days prior to cooking, changing water three times a day.
Add olive oil, skin and bones, garlic, and pepper to a pot and cook very slowly. Strain ingredients and put remaining liquid in another pot. At the bottom of the pot, there will be a milky substance that beads in the small amount of remaining oil. This is the gelatin. Whisk this mixture in order to form an emulsion, called pil pil.
At the same time, place fish and a little oil in the oven at 180° C or in a pan. Cook or fry fish slowly. Once fish is cooked through, after about three minutes, add fish to emulsion.
Place fish in a new pan with gelatin. Add more oil and whisk mixture gently in order to form an emulsion.
Top the cod generously with emulsion and garnish with a piece of sliced chili and fried garlic. Serve warm.
Gastrobar Txokoa
Weserstraße 6
12047 Berlin
Tel.: +49 1578 7513568