Al Qaeda has appointed one of its best-known faces and longtime second-in-command - 59-year-old Ayman al-Zawahiri - to take over the reins after the death of leader Osama bin Laden.
Zawahiri was born in 1951 to a prominent upper-class family in the leafy Cairo district of Maadi. His father was a medical doctor and his great uncle an imam at the famous al-Azhar mosque in Cairo.
Believed to have been extremely religious since he was a young boy, Zawahiri followed in his father's footsteps and studied medicine in Cairo. As a teenager, he joined the banned Islamist group Muslim Brotherhood.
After his studies, Zawahiri worked as a surgeon for three years in the Egyptian army and later as a doctor in a Cairo hospital.
An intellectual heavyweight
After the assassination of President Anwar Sadat in 1981, Zawahiri was among hundreds of militants arrested and accused of involvement in the plot. He went on trial but was cleared of the charge. He did however spend three years in prison on charges of weapons possession - an experience that is said to have radicalized him.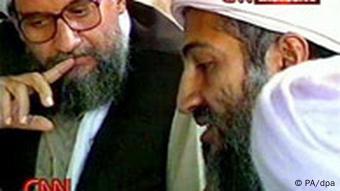 Bin Laden, left, and Zawahiri together planned a number of terrorist attacks
After his release, Zawahiri travelled to Afghanistan where he got to know bin Laden and participated in the battle against Soviet troops. Once the war ended, Zawahiri renewed his fight against the Egyptian government.
He was widely believed to be behind a 1995 assassination attempt in Addis Ababa against then Egyptian President Hosni Mubarak. For his role in the campaign, Zawahiri was sentenced to death in absentia by an Egyptian court in 1998.
The violent establishment of an Islamic theocracy and the driving out of US troops from the Gulf region were ideologies that Zawahiri shared with bin Laden, who founded the al Qaeda militant network in 1988. Together they planned the attacks on American embassies in Kenya and Tanzania in 1998.
With his aggressive rhetoric and training in theology, Zawahiri quickly climbed up the ranks to become al Qaeda's leading ideologue.
"There is no one who can achieve his intellectual stature. He's a giant among the remaining al Qaeda leadership," Fawaz Gerges, an expert on Middle Eastern studies at the London School of Economics said about Zawahiri.
Visible face of al Qaeda
Together with bin Laden, Zawahiri demonstratively took credit for al Qaeda's greatest triumph - the September 11 attacks on the US. The two appeared together in a video published shortly after the attacks. Zawahiri was widely believed to be the "operational brains" behind the attacks.
In recent years, Zawahiri has increasingly been seen as bin Laden's right-hand man and the second-in-command of al Qaeda. Some experts say Zawahiri's appointment at the helm of al Qaeda is no real surprise.
"Ayman al-Zawahiri was the undisputed number two in the organization and it wasn't possible that another member would take over the role of al Qaeda leader," Guido Steinberg, an expert on the Middle East and Islamic terrorism at the Berlin-based German Institute for International and Security Affairs (SWP) said.
As opposed to bin Laden, who was mainly busy concealing himself from the authorities, Zawahiri was highly visible, appearing in more than 20 video messages over the years.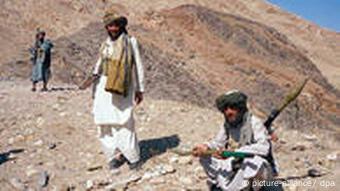 Al-Zawahiri is believed to be hiding in Pakistan after the fall of the Taliban in Afghanistan
With his white turban, his gun at his side and a scar on his forehead, apparently because of repeatedly knocking his forehead on the ground in prayer, Zawahiri became one of the most prominent faces of al Qaeda. In his video messages, he defended terrorist strikes by al Qaeda such as the one on the London public transport system in 2005.
Since the killing of bin Laden by US forces in early May, Zawahiri has topped the list of most-wanted fugitives by the FBI and carries a $25-million (17-million euros) bounty on his head.
After the fall of the Taliban in Afghanistan, Zawahiri is believed to have gone underground in neighboring Pakistan along with other al Qaeda figures. There have been several attempts to kill Zawahiri using US drones.
The most spectacular attempt on his life took place in 2006 in Pakistan but contrary to early speculation, Zawahiri was not among the victims of the drone strike.
Appointment could lead to divisions
Some experts say Zawahiri's ascent to the top of the global terrorist network could lead to a shifting of forces within the organization and point to divisions.
While Osama bin Laden, a Saudi Arabian national, commanded much loyalty among Saudi al Qaeda operatives, Zawahiri is unlikely to do the same. Some say the Yemen and Saudi arms of al Qaeda are likely to suffer a loss of influence as a result.
"You will now need a Saudi Arabian national in the new leadership in order to tie the Gulf Arabs more closely to the organization and avoid a split," Steinberg said.
Terrorism experts say that in recent years Zawahiri's grip on the operational working of the al Qaeda network was almost every bit as weak as bin Laden's. His elevation to al Qaeda chief thus could above all have highly symbolic value and could even be an attempt to demonstrate the terrorist outfit's continuing presence.
Author: Daniel Scheschkewitz (sp)
Editor: Rob Mudge