Vienna's Life Ball, held each May, is a glittering celebration of gay and lesbian culture and a big fundraiser for HIV/AIDS research. Guests this year included Hollywood stars Charlize Theron and Sean Penn. But the most dramatic moment was when ball organizer Gery Keszler, his voice breaking with emotion, went public with the news that he's been living with the HIV virus for nearly three decades.
"I was 20 years old when I became infected, and I was one of the first Austrians. And I don't know why I am standing here now, so healthy. I've lost so many friends…" he told a huge live television audience and a crowd of thousands gathered in front of the city's town hall.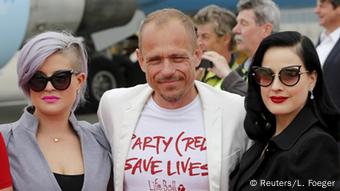 Keszler (center) with guests Kelly Osbourne (left) and dancer Dita Von Teese
Keszler is a high-profile public figure who has run the Life Ball since 1993. That he found it so difficult to come out as an HIV infected person is a sure sign that the virus still carries stigma, says Dr. Norbert Vetter who has been treating AIDS patients since the early days of the epidemic.
"It clearly shows that he was in this dilemma - on the one hand to be open-minded, to inform people that he himself was part of the dilemma, and on the other, the conservative background and the education in which we all have been raised."
Two faces
Austria is a leading participant in clinical trials of AIDS drugs for the big pharmaceutical companies. The accumulated data shows that the latest anti-retroviral drugs not only manage the infection, but, if taken early enough, can potentially prevent it.
But only if taken early enough. Dr. Armin Rieger, who heads the AIDS ward at Vienna's general hospital, told DW that the disease has developed into one with two faces.
One is represented by a person who's diagnosed "in time" and who has a normal life - except for taking a pill once per day.
The alternative face is that of a person who is diagnosed late for some reason and who turns up for treatment with "full-blown AIDS." This occurs despite the latest available treatments - the anti-retroviral drugs - which provide effective control of the infection.
Dr. Rieger, who has more than two decades experience in treating AIDS, believes the reason many do not seek early treatment is fear of discrimination.
"The moment you are not tolerant, and you stigmatize the patient, they will not seek your help. They will not seek diagnosis, because they would rather hide their habits and infection."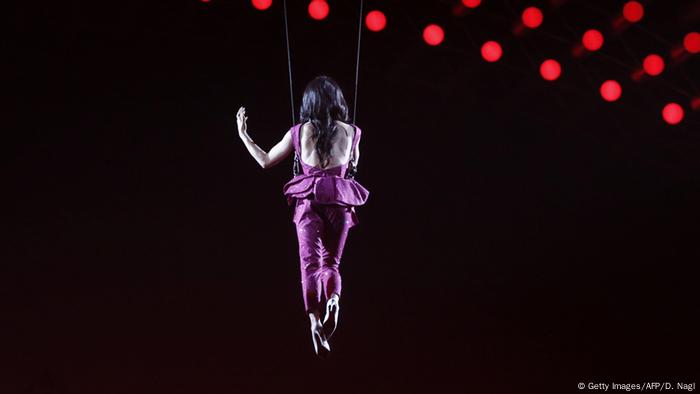 Conchita Wurst has helped shaped the country's "open" image, but the country remains deeply conservative
Not just Catholic conservatism
Dr. Vetter says that when this therapy is given very early, either after risky sexual intercourse or a needle injury, the infection can often be blocked. But he says that's a difficult message to get across "in a conservative society."
The most promoted preventative message, says Vetter, is to use condoms. However, he believes conservative attitudes are preventing the promotion of "early treatment" as an effective alternative.
"A conservative Catholic society is afraid that Sodom and Gomorrah would appear," says the AIDS epidemic veteran.
Dr. Armin Rieger adds, however, that it isn't just a case of Catholic conservatives.
"In people with an immigration background originating from sub-Saharan Africa, we see a high percentage of late presentation." Rieger believes "fear of stigmatization" and community rejection may be a reason for this phenomenon.
Norbert Vetter goes further. He believes that stigma and prejudice about AIDS is preventing the eradication of the disease.
"There's a pre-exposure prophylaxis which could be taken before a dangerous sexual intercourse," he says. Someone who takes such a therapy, he adds, "will not be infected."
And waiting for an HIV/AIDS vaccine, which is the focus of most research spending, is not something Norbert Vetter believes we can afford to do. He sees current medication, when combined with the right public health policies, as having the potential to end the epidemic.
His recommendation: that everyone should be tested in order to know their HIV status. The next step in Vetter's plan is to "treat hard and early."