"My physical powers dictate a cancelation of further plans," wrote Harnoncourt in a facsimile inserted into the brochure of a concert he'd been scheduled to conduct at the Vienna "Musikverein" one day before his 86th birthday.
Failing health had forced Nikolaus Harnoncourt to cancel a number of dates in recent months, but the declaration this past weekend came as a surprise. The Austrian maestro had scheduled a number of appearances through late 2016, including a Beethoven symphony cycle at "styriarte," his own early music festival in Graz.
In December 2014, Harnoncourt accepted the ECHO Lifetime Achievement Award with a note of skepticism, saying, "What if I have a different lifetime achievement starting the day after tomorrow?"
The departure from active music life seems not to have come easy for the conductor and cellist, writing, "An unusually deep relationship has been built between us onstage and you in the auditorium - we are a happy community of discoverers!"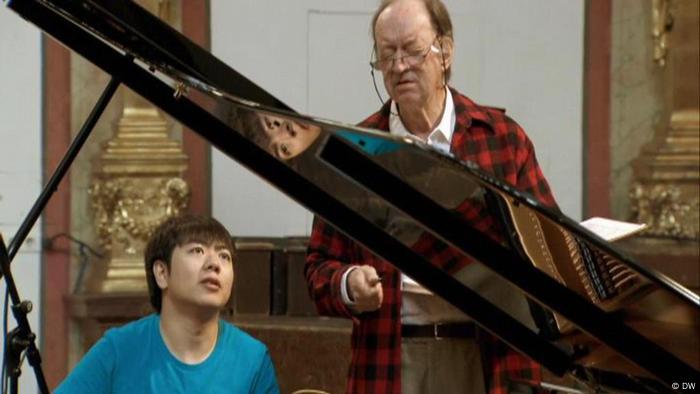 The 2015 DW documentary 'Mission Mozart - Lang Lang & Nikolaus Harnoncourt' focuses on the first collaboration between the young star and the old maestro
In 1953, Harnoncourt founded "Concentus musicus Wien," giving its first concert in Vienna's Schwarzenberg Palace four years later. Performing on historic instruments and basing its musical interpretations on a careful study of historical sources, the pioneering ensemble was the model for many period instrument ensembles to come.
In later years, Harnoncourt conducted a number of renowned modern instrument orchestras, including the Concertgebouw Orchestra Amsterdam and the Vienna and Berlin Philharmonics.
In books like "Baroque Music Today: Music as Speech" (1982), Harnoncourt provided the theoretical and historic arguments to back up his musical renditions, which have been described as "fresh," "radical," "polarizing" und "revolutionary."