France and Australia have agreed to sign a multi-billion dollar deal - which Paris has billed as the "contract of the century" - for 12 state-of-the-art submarines, their defence ministers said Monday. Prime Minister Malcolm Turnbull and France's Minister of Defence, Jean-Yves Le Drian, will ink the inter-governmental accord in Adelaide.
The French shipbuilder DCNS will design and build the subs, dubbed Shortfin Barracudas, but most of the assembly work will be done in Adelaide, Australia.
Australian Defence Minister Marise Payne said in Sydney the fleet of subs was the "largest defence procurement programme in Australia's history". The overall cost of the submarine fleet, which includes separate agreements with US and Australian contractors, totals Aus$50 billion (US$37 billion, 35 billion euro).
The new contract, to be signed Tuesday, will lay out the "legal framework under which Australia and France will partner on the future submarine programme over the coming decades." Payse said it was "a critical milestone in delivering the regionally superior fleet of submarines."
Keeping nuclear options open?
This week's contract signing finalizes a decision taken in April, when Australia awarded Paris-based DCNS (Direction des Constructions Navales Services) the main responsibility for designing and building its next generation of submarines. DCNS beat competition from Germany and Japan to win the contract. Germany's Thyssenkrupp Marine Systems had offered its Type 216 subs, and Japan's Kawasaki and Mitsubishi Heavy Industries offered their Soryu-class attack subs.
The Shortfin Barracuda vessels will be a scaled-down, diesel-electric powered version of France's 4,700-tonne nuclear-reactor-propelled Barracuda, and will boast similar stealth capabilities.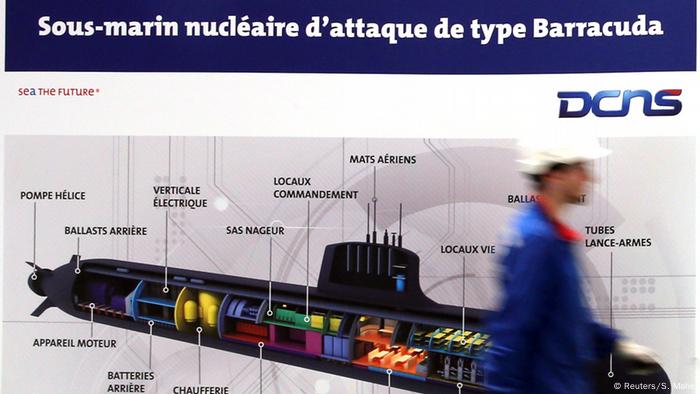 An employee walks past a poster showing a Barracuda submarine at the DCNS shipyard at La Montagne, near Nantes, France, in April 2016.
According to a report published on May 1 in the "Australian Financial Review," a key factor in Canberra's choice of the Barracuda over the German and Japanese subs, both of which are available only with diesel-electric propulsion, was that the Shortfin Barracuda planned for Australia is a variant on a nuclear-powered sub.
Current design plans call for Australia's Shortfin subs to be powered by diesel-electric propulsion systems, because ordering vessels equipped with nuclear marine propulsion would be politically untenable at present. But if that should change over the decade or more it will take to build the subs, it will be far easier to refit a Barracuda for nuclear propulsion than it would be to make the German or Japanese offerings nuclear propulsion compatible.
Naval warfare planners prefer nuclear-powered subs because they have longer ranges, due to the fact they don't need to surface for refuelling or air. Their range is limited only by the amount of food that can be stored on-board for sailors.
Local jobs
Design and mobilisation work has already been launched with Australian experts working in Cherbourg. DCNS will open new offices in Adelaide on Tuesday, employing up to 300 engineers. With Canberra insisting all the subs be built domestically, Payne said 2,800 jobs would be linked to the overall Shortfin Barracuda programme in Australia.
The first vessel is expected to be ready by around 2030. The Barracudas are to replace Australia's ageing diesel-electric Collins submarines. Payne would not detail the speed and range of the new vessels, saying only that they would be "regionally superior" and better than the Collins class subs they replace.
US weapons maker Lockheed Martin was named in September to fit the combat systems for the Barracudas.
NZ / (AFP, DCNS website)