Australia's coalition government is under strain as an open feud between Deputy Prime Minister Barnaby Joyce and Prime Minister Malcolm Turnbull threatened a major political crisis.
On Thursday, Turnbull said the head of the National Party had made a "shocking error of judgement" and "set off a world of woe" for both his wife and his former media advisor, now pregnant with his child.
The extramarital affair prompted the prime minister on Thursday to ban sex between ministers and their staff.
Joyce lashed out on Friday, calling Turnbull's remarks "inept."
Read more: Australia to apologize to victims of child sex abuse
"(Turnbull's comments) caused further harm. I believe they were in many instances inept and most definitely in many instances unnecessary," Joyce said.
"This was a personal issue... People should not resign on personal issues," he said.
James Massola, the chief political correspondent for the Sydney Morning Herald, quipped that the open feud was providing political ammunition for the opposition.
Turnbull's Liberals are in a coalition with the much smaller Nationals. The government has a narrow one-seat majority.
The prime minister has not directly said whether he believes Joyce should resign.
However, Turnbull said that Joyce would be taking a week of leave and not be acting prime minister when he travels abroad next week.
But some Nationals lawmakers viewed his comments as a bid to apply pressure for Joyce to resign and interfere in their party. It is not possible for Turnbull to sack his deputy unless the National Party acts.
Turnbull on Friday denied trying to influence the National Party.
The opposition Labor party has meanwhile described the governing coalition as being "at war" with itself.
Read more:Australian parliament passes same-sex marriage bill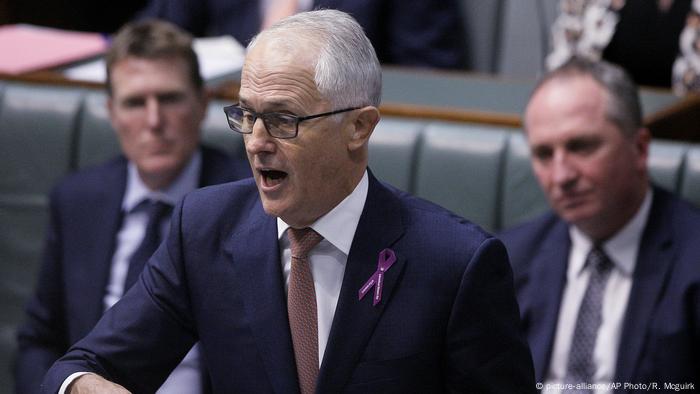 Turnbull on said Joyce should "consider his own position, obviously. These are matters for Barnaby to reflect on."
Joyce has four children with his estranged wife of 24 years.
However, the pressure on the 50-year-old politician to resign as Nationals leader and deputy prime minister is not directly related to the affair with his former press advisor, 33-year-old Vikki Campion.
Instead, Joyce is under fire for possibly violating the ministerial code of conduct.
Campion was hired for two government positions after she stopped working for Joyce in 2017.
The code specifies that "partners" of ministers cannot be given jobs in ministerial offices without the approval of the prime minister. Joyce says that Campion was not a "partner" at the time.
Joyce is also under pressure after it was revealed that he accepted a rent-free apartment from a millionaire friend after his marriage collapsed. The code of conduct forbids accepting personal gifts.
However, Joyce argues that he offered to pay for the apartment but his friend didn't accept. He also says that he was not a minister at the time he began living in the apartment because he lost his seat in over a dual citizenship court ruling, only later to win a seat in a by-election.
DW's editors send out a selection of the day's hard news and quality feature journalism. You can sign up to receive it directly here.
cw/rt (dpa, Reuters)