Rabbi Henry Brandt and Aiman Mazyek of the Central Council of Muslims spoke at the entrance to Auschwitz on Thursday, at a memorial for the victims of the Nazi death camp.
Mazyek said in his speech: "We promise that with our strength, with the strength of our faith, we will work together so there will 'never again be Auschwitz.'"
For his part, Brandt said, "I am deeply impressed that Muslims and Jews are here together." He said he hoped that the young people present would learn lessons for life from their visit.
The commemoration was the main event of an educational trip organized by the Central Council of Muslims and the Union of Progressive Jews in Germany. Among those taking part were Muslim refugees from Syria and Iraq, as well as young Jewish people.
The respective state premiers of Thuringia and Schleswig-Holstein, Bodo Ramelow and Daniel Günther, laid wreaths.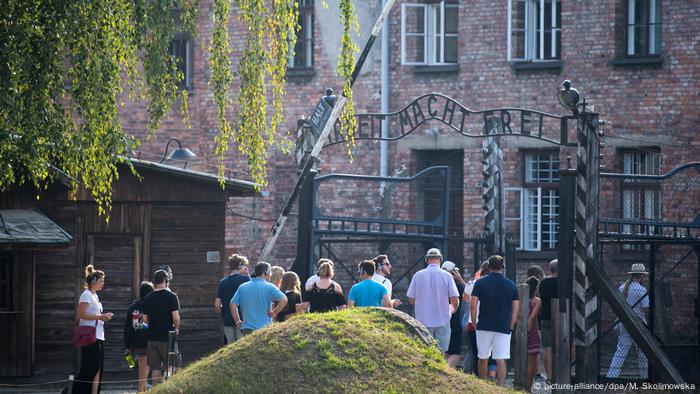 The memorial ceremony was the main event for an educational tour organized for young Jewish people and Muslim refugees.
Memorial for the Litzmannstadt ghetto
The service of remembrance was held on the 74th anniversary of the start of deportations by Nazi German forces to Auschwitz of people from the Litzmannstadt ghetto in Lodz.
In three weeks in August 1944, 67,000 people were transported to the death camp and about 45,000 were killed in the gas chambers.
The Litzmannstadt ghetto had been established by Nazi German forces after they invaded Poland in 1939. It was turned into an industrial center making war supplies and was the second-largest ghetto in German-occupied Europe after Warsaw. About 40,000 more people were sent to Litzmannstadt from the local region and from other parts of Nazi-occupied Europe.
The wave of deportations began in 1942 and in August 1944 the last men, women and children were sent to Nazi death camps. When Soviet troops arrived in the city, only 877 Jewish people remained, hidden in the ghetto.
An estimated 1.3 million people were deported by the Nazis to Auschwitz. About 1.1 million people died there.
According to historical records gathered by the Auschwitz-Birkenau Museum, only 196 prisoners managed to escape.
Each evening at 1830 UTC, DW's editors send out a selection of the day's hard news and quality feature journalism. You can sign up to receive it directly here.