The bill establishing the position was opposed by the military's representatives in parliament. It passed easily, however, because of the large majority that Suu Kyi's National League for Democracy (NLD) won in November's election.
"It is difficult for the military representatives to continue participating if (the bill) is voted through without review," military MP Brigadier General Maung told the chamber.
The bill must be signed by President Htin Kyaw - a close ally of Suu Kyi - before taking effect.
Under the constitution drafted by the former military regime, military representatives hold 25% of parliament's seats. They boycotted Tuesday's vote, standing in protest.
China first
Suu Kyi, who is already a foreign minister, met Tuesday with visiting Chinese Foreign Minister Wang Yi Tuesday.
China was the main ally of the former military government and has been criticized for allegedly exploitative and environmentally unsound projects in Myanmar, including a mega-dam and mines in the country's northern Kachin state, a gas pipeline in western Rakhine state, a large copper mine in central Myanmar and several special economic zones.
Wang congratulated Myanmar on installing its first civilian government in decades and declared that China would work only on projects that were beneficial to both countries.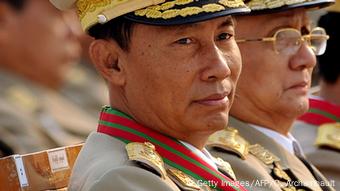 Myanmar general Thura Shwe Mann (L) and prime minister Thein Sein (R) along with senior leaders attend a military parade marking the country's 65th Armed Forces day at a parade ground in the new capital Naypyidaw on March 27, 2010
Suu Kyi, 70, first took on four cabinet posts - foreign affairs, education, energy and the president's office - but dropped the education and energy portfolios
Suu Kyi described relations with China as "very important politically as well as socially and economically." With a cumulative total of $15.4 billion of approved investments in Myanmar, China is by far its largest foreign investor, despite reforms in recent years that have seen Western firms surge back.
Wang meanwhile said his government was eager to "build more confidence" between the nations and vowed that China would support Myanmar's process of national reconciliation. "China is a good neighbour to Myanmar. We want to improve the relationship between the two countries," he said through an interpreter.
Fighting in the border region of Kokang last year between the Myanmar army and local rebels with links to China also strained relations.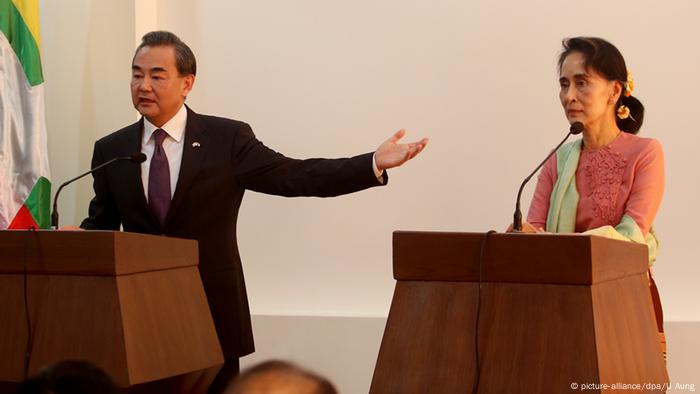 Myanmar's Foreign Minister Aung San Suu Kyi (R) and her Chinese counterpart Wang Yi at a joint press conference after their meeting at the Ministry of Foreign Affairs in Nay Pyi Taw, Myanmar, April 5
From general to monk
The retired junta general - Thein Sein - who steered the country's last five years of reforms has temporarily become a monk, state media reported. This only a few days after ceding power to a new government led by Aung San Suu Kyi's pro-democracy party.
A shaven-headed Thein Sein wearing his trademark spectacles and draped in the deep maroon robes of the Buddhist clergy was seen on social media.
Thein Sein, a former junta general, led Myanmar's quasi-civilian transitional government through five years of reform. The 70-year-old handed power to Suu Kyi and her proxy president Htin Kyaw last week. He is expected to continue to lead his army-backed party, now in opposition after the November poll.
Challenges ahead
The new civilian administration, sworn in on March 30, faces a host of economic challenges as it inherits the government of the impoverished nation from the military. It also faces tensions with the military which ruled for almost half a century.
jbh/jil (AP, AFP)