BlackRock, the world's largest asset manager, announced Friday that it is asking gunmakers and retailers in its portfolios to explain how they monitor firearms sales and use. The firm also said it is considering creating a new portfolio for its customers that would exclude gunmakers and retailers.
"We are … exploring ideas for new funds, including index-based portfolios that exclude just firearms manufacturers and retailers," it said in a statement to clients on its website.
Read more: Guns and Wall Street — a match made in heaven?
BlackRock, which manages over $6 trillion (€4.8 trillion) in assets, said the initiative was in response to last month's shooting at a high school in Parkland, in the US state of Florida, that left 17 dead. It is the most critical stance taken by a major firm since the shooting.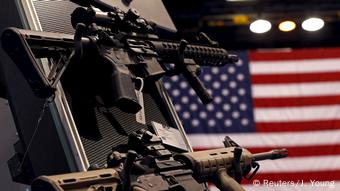 If firearms companies are publically traded, it means their shares can be in investment porfolios
"We believe that this event requires response and action from a wide range of entities across both the public and private sectors," the firm said. It then pointed out that some large firearms manufacturers and retailers are "publicly listed companies and are therefore held in the portfolios of millions of individual and institutional investors around the world."
BlackRock's dual initiative comes as other businesses and retailers have taken tougher stances on gun control, either by restricting the sales of firearms or cutting ties with the National Rifle Association (NRA) firearms lobby group.
A no-gun portfolio option
BlackRock includes three gun manufactures — American Outdoor Brands, Vista Outdoor and Sturm Ruger — in its portfolio. It is a major shareholder in these companies, though the firm said that the shares make up just 0.01 percent of its total assets.
By offering its clients a new portfolio, BlackRock could theoretically reduce the demand for stocks in the three gun manufacturers, since clients could chose investment products that exclude the companies.
"Of course, it is our clients' decision when and how to use these products to achieve their goals," it said of the possible future gun-free investment portfolios. "It is their money, not ours."
Read more: Can a group of Florida high school students change America's cycle of gun violence?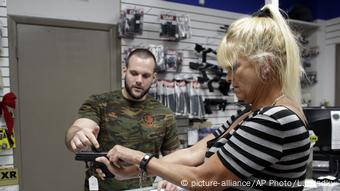 BlackRock is asking gun sellers questions about how they prevent the misuse of firearms that they sell
Engaging with gunmakers and sellers
BlackRock also said it had already reached out to gunmakers and retailers to ask them about their business practices.
"We have already had constructive discussions with some, and we are continuing to pursue our engagement with them all," it said. Among the questions being posed to the firearms manufactures are the measures they take to ensure their products' "safe and responsible use" and whether they require retailers to undertake background checks.
BlackRock is asking gun retailers how much revenue and profit they get from the sale of firearms and whether they have age limits and licensing for purchases.
Read more: 8 facts about gun control in the US
cmb/jlw (AP, Reuters)
Each evening at 1830 UTC, DW's editors send out a selection of the day's hard news and quality feature journalism. You can sign up to receive it directly here.