Walmart, the US retail giant, announced Wednesday that it will no longer sell firearms and ammunition to people younger than 21. It also said it would remove items resembling assault-style rifles from its website.
Walmart said it made the decision after the company reviewed its firearm sales policy in light of the mass shooting at Marjory Stoneman Douglas High School in Parkland, Florida, that killed 17 people.
The teenage gunman used an AR-15 rifle. Walmart said it took "seriously our obligation to be a responsible seller of firearms." They also emphasized their background of "serving sportsmen and hunters."
The move comes on the heels of Dick's Sporting Goods announcement earlier in the day that it would restrict the sale of firearms to those under 21years old.
"When we saw what the kids were going through and the grief of the parents and the kids who were killed in Parkland, we felt we needed to do something," said Dick's Chairman and CEO Ed Stack on ABC's "Good Morning America."
Dick's also said it would immediately stop selling assault-style rifles, and its CEO took on the National Rifle Association by demanding tougher gun laws.
Major companies cut ties with NRA
A number of major corporations, including MetLife, Hertz and Delta Air Lines, have cut ties with the NRA since the Florida tragedy. However, none of them were retailers that sold guns.
The NRA has vehemently opposed calls for raising age limits for guns or restricting the sale of assault-style weapons.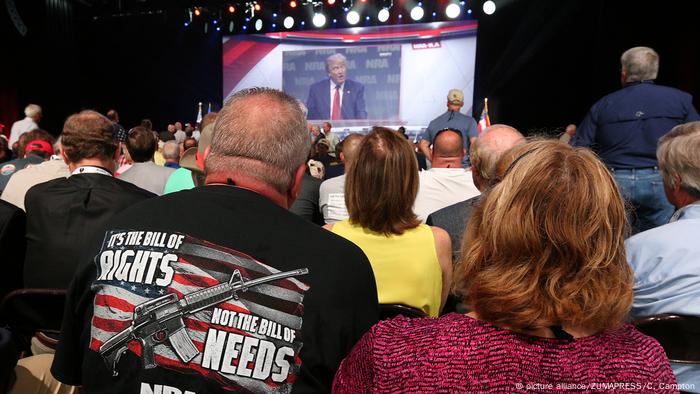 President Trump addressing the NRA
Walmart Inc. stopped selling AR-15 guns and other semi-automatic weapons in 2015. It also does not sell bump stocks, the accessory, when attached to a semi-automatic gun, makes it easier to fire rounds quicker. It also does not sell large-capacity magazines.
The Republican-led US Congress has shown little appetite in recent years to pass gun control laws, but the shooting at a Florida high school that left 17 people dead has put pressure on lawmakers to take action.
av/rc (AP, Reuters, DPA)
Each evening at 1830 UTC, DW's editors send out a selection of the day's hard news and quality feature journalism. You can sign up to receive it directly here.