Moviegoers in the late 1970s found it hard to avoid Jim Jarmusch. As Hollywood was ushering in the era of the blockbuster with George Lucas ("Star Wars") and Steven Spielberg ("Jaws"), something astonishing was developing at the other end of the film spectrum. Small movies, produced independently on a tight budget and often starring unknown actors, began to find a following among young cinema fans and film students.
Film historians have classified the work of directors such as Jim Jarmusch, Hal Hartley, Steven Soderbergh and Spike Lee as independent cinema. Over the years, Jarmusch especially has become an icon for this kind of cinema, which focused on stories that happened far away from the world of Hollywood glitz and glamour.
Influential debut
Jarmusch's 1980 debut, "Permanent Vacation," is a landmark cinematic work. Follow-up films "Stranger than Paradise" (1984) and "Down by Law" (1986) solidified the reputation of this director born in Ohio on January 22, 1953.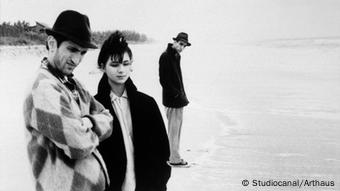 'Stranger than Paradise' starred (left to right) Richard Edson, Eszter Balint and John Lurie
Jarmusch resisted the lure of Hollywood and continued making movies away from the mainstream, and is still considered an uncompromising exception in the US filmmaking community.
Jarmusch has worked with stars such as Johnny Depp, Sharon Stone, and "Star Wars" baddie Adam Driver, but his films have always retained their artistic independence.
Later works such as "Mystery Train" (1989) or "Broken Flowers" (2005) were shown and honored at major festivals, but the director has always kept his reputation as the father of independent cinema.
This has mainly to do with his first three films. In "Permanent Vacation," the director followed his young lead actor Chris Parker as he roamed around a rundown New York. Parker, as Allie, encounters all sorts of outsiders, entering into brief dialogues with them or simply observing. In the end, he leaves New York and sets out on a voyage to Paris.
Read more: New Jarmusch film shows never-before-seen early footage of Iggy Pop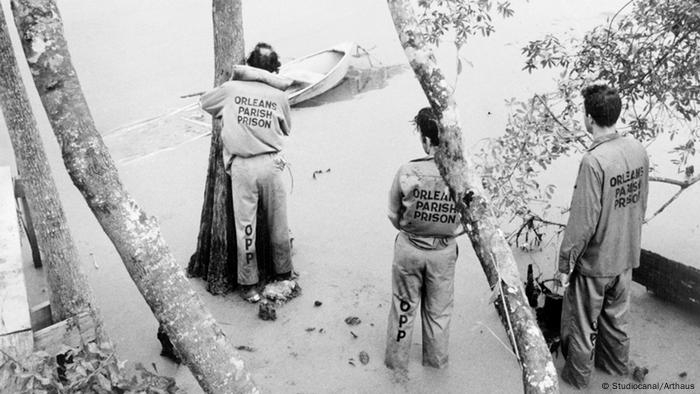 'Down by Law' follows three prisoners as they make their escape
Early discovery in Germany
"Permanent Vacation" was produced for only $12,000. After its New York premiere, it debuted a week later in Germany at the Mannheim Film Festival, where Jarmusch was introduced to Europe. Since then, the American director has had a large fan base in Germany.
It also helped that Jarmusch got his first practical film experience under famed German director Wim Wenders.
When Wenders made his 1980 documentary "Lightning Over Water," about the legendary US director Nicholas Ray ("Rebel Without a Cause"), Jarmusch was his production assistant. Ray, who was teaching film in New York before his death in 1979, introduced the two filmmakers, and for a few years Wenders became a cinematographic father to Jarmusch.
"My impression of Jim was that he knew exactly what he wanted," Wenders would later write. "He may seem quiet, but he is determined to go his own way. At any rate, he has one of the important requirements for becoming a good director: a great love and knowledge of rock music. That's half the battle, if you ask me."
Read more: World Cinema Fund gives filmmakers outside of Hollywood a voice
Music as a companion
It was no coincidence, therefore, that musician and actor John Lurie was cast in a leading role in Jarmusch's second film, "Stranger than Paradise." Lurie would go on to star in "Down by Law," alongside fellow musician Tom Waits.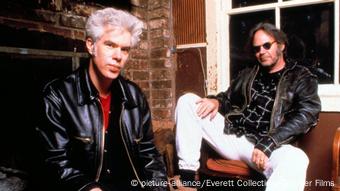 In 'Year of the Horse,' Jarmusch documented Neil Young's 1996 concert tour
"Stranger than Paradise," released in 1984, became one of the cult films of the era, striking a nerve with young filmgoers. Many could identify with the awkwardness of the film's stars.
Not much happens in many Jarmusch films — his characters usually just hang out — making for a very specific cinematic experience. Jarmusch simply observes his protagonists, and if they do nothing, the director shows that nothingness.
People tend to overdramatize things, especially in films, Jarmusch would later say. There are spectacular plots, surprising twists — "but life has no plot, and not every moment is dramatic." Many viewers liked his approach.
Art, or affectation?
That idleness, the seeming boredom, little action, sparse dialogue and the deliberate cinematography — all that became cult.
'Paterson,' released in 2016, tells the story of a small-town bus driver and poet, played by Adam Driver
"Every frame could be hung as a work of art. Every line of dialogue could find its way into a poetry book," said German film critic Georg Seesslen.
But for some viewers, this skillfully staged understatement was just a pretentious affectation. In his book on the American independent movie scene, Geoff Andrew wrote that "'Permanent Vacation'" seemed strangely stilted, very much a product of its time.
Read more: An antidote to Trump Jim Jarmusch and his film 'Paterson'
Both views are correct — and they also apply to Jarmusch's later work. Jarmusch has indisputably added an original note to the US independent film scene, both aesthetically and in terms of content. But he is far from being relegated to a fad in film history.
With his two latest works, the poetic feature film "Paterson" and the music documentary "Gimme Danger," about the legendary punk band The Stooges and icon Iggy Pop, both released in 2016, Jarmusch has also proved that he's not done yet.