A Thai general was among 62 people convicted by a court on Wednesday of various charges, including murder, torture, rape, money laundering and human trafficking.
Lieutenant General Manas Kongpan (main picture) received 27 years for human trafficking and other offenses.
The 103 defendants, all of whom pleaded not guilty, included Thai police officials, businessmen, bureaucrats and Myanmar nationals.
Thai officials initiated the case in 2015 after the discovery of more than 30 bodies at an abandoned human trafficking camp in the southern Songkhla province close to the Thai-Malaysian border.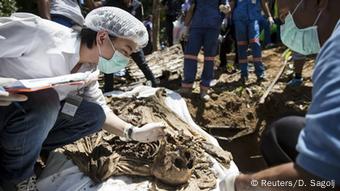 Authorities believe the graves contained bodies of Rohingya refugees from Myanmar and Bangladesh
Authorities believe the graves contained bodies of Rohingya refugees from Myanmar and Bangladesh. At least two of them were children.
Thousands of persecuted Rohingya Muslims, who have been fleeing Myanmar's Rakhine state since 2012, are smuggled into Thailand every year.
It was not immediately clear what caused the deaths, although police said they believed the people were Rohingya because human traffickers often put the immigrants in temporary shelters. Investigators said traffickers held migrants at the camps until relatives paid ransom for their release. In other cases they were sold as slaves.
- Unfolding Rohingya crisis: 'Not something of a civilized world'
- Rohingya exodus: Tales of suffering and misery
"The trial and convictions was just the first step," Sunai Phasuk, senior Thailand researcher at Human Rights Watch, told Reuters news agency.
"The government needs to do more beyond this and continue investigations. It should leave no stone unturned."
Thailand is considered to be one of the worst places when it comes to human trafficking, according to the US State Department's Trafficking in Persons (TIP) report, which ranks countries by their efforts to deal with human smugglers.
Just weeks after the discovery of dead bodies in Thailand, Malaysian authorities unearthed mass graves near the Thai border.
A total of 139 graves were found at 28 abandoned squalid detention camps believed to have been used by human traffickers to hold people fleeing Myanmar and Bangladesh.
Rohingya plight
The mass graves in Thailand and Malaysia highlighted the largely-ignored plight of the Rohingyas in Myanmar and Bangladesh that are regularly exploited by human traffickers.
Myanmar's Rohingyas live predominantly in the western state of Rakhine. They are not officially recognized by the government as citizens and for decades the nation's Buddhist majority has been accused of subjecting them to discrimination and violence.
Read: Myanmar's Rohingya conflict 'more economic than religious'
Viewed by the United Nations and the US as one of the world's most persecuted minorities, thousands of Rohingya from Myanmar and Bangladesh flee their countries every year in a desperate attempt to reach mainly Muslim Malaysia and Indonesia.
Beyond verdicts
Fortify Rights, a Southeast Asia-based human rights organization, believes it is necessary for the Thai government to carefully examine the entire process in order to avoid similar problems and difficulties in the future trafficking cases.
It also said the Thai investigation was limited and failed to investigate other suspected camps where victims are believed to be buried.
"Thai authorities shouldn't sweep undiscovered mass graves under the rug of this trial," Amy Smith, executive director of Fortify Rights, said in a statement.
"We documented a massive operation that trafficked tens of thousands of Rohingya during a three-year period. The loss of life was significantly more than the focus of this trial," she said.
"We believe the crackdown is only a disruption of a trafficking network but that network is still very much well in place," said Smith.
Vivian Tan of the UN refugee agency, UNHCR, in Bangkok told DW that since mid-2015, the UN has not recorded any Rohingyas fleeing the region by boats. However, he noted, some 74,000 Rohingyas have fled the country to Bangladesh by road since then.