Energy has been restored to nearly 90% of users after a massive blackout left nearly 50 million people in Argentina, Uruguay and Paraguay without power on Sunday.
The problem in the energy network left Argentina cut off from power at 7:06 a.m. local time (10:06 UTC) Sunday in what Argentine energy company Edesur attributed to "a massive failure in the electrical interconnection system."
Argentine President Mauricio Macri said on Twitter the outage was "unprecedented."
Read more: Dams: Clean power, sullied legacy
By evening, authorities were able to restore power to most users across the three countries.
Argentina's Energy Ministry Gustavo Lopetegui said the cause of the outage was still being investigated.
"We don't have any more information right now on how it occurred. We're not ruling out any possibility, but a cyber attack is not among the main alternatives being considered," he told reporters.
An independent energy expert in Argentina said the power grid's collapse was related to systemic operational and design errors.
"A localized failure like the one that occurred should be isolated by the same system," said the president of Argentina's Center for the Study of Energy Regulatory Activity, Raul Bertero. "The problem is known and technology and studies (exist) to avoid it."
Uruguay's energy company UTE blamed the blackout on a "flaw in the Argentine network" that cut electricity to the country.
Paraguay's National Energy Administration restored power by the afternoon by redirecting energy from the Itaipu hydroelectric plant.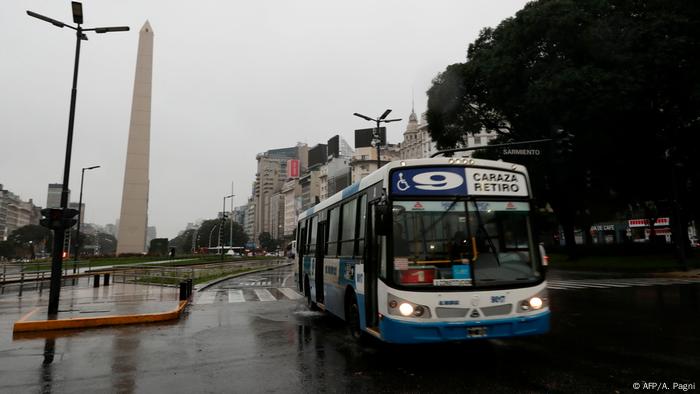 Power cuts affected transport in wintery Argentina
Regional elections
Several provinces in Argentina that had regional elections scheduled were forced to temporarily delay the votes. In the elections that were not delayed, voters went to the polls by the light of their mobile phones. The outage widely disrupted transportation, and shops were closed.
Patients reliant on medical equipment were encouraged to go to the nearest hospital with a generator.
The provincial government of Buenos Aires put emergency services on alert.
cw/amp (AFP, dpa)
Every evening, DW sends out a selection of the day's news and features. Sign up here.