The Norwegian Institute for Cultural Heritage Research (NIKU) said in statement that the discovery of a 20-meter-long ship in Ostfold County in southern Norway had been made using a high-resolution ground-penetrating radar.
"This find is incredibly exciting as we only know three well-preserved Viking ship finds in Norway ... This new ship will certainly be of great historical significance as it can be investigated with all modern means of archaeology," Knut Paasche, Head of the Department of Digital Archaeology at NIKU, said.
The georadar data also revealed 5 longhouses, which along with the ship are thought to be part of a larger mound cemetery and settlement site from the Iron Age, which lasted from around 500 to 1000 AD.
The Vikings were infamous marauders, dominating the seas of northern Europe between the 8th and 11th centuries. They buried their kings and chiefs aboard boats buried under mounds of earth.
"The ship burial does not exist in isolation, but forms part of a cemetery which is clearly designed to display power and influence," archaeologist Lars Gustavsen, project leader from NIKU, said.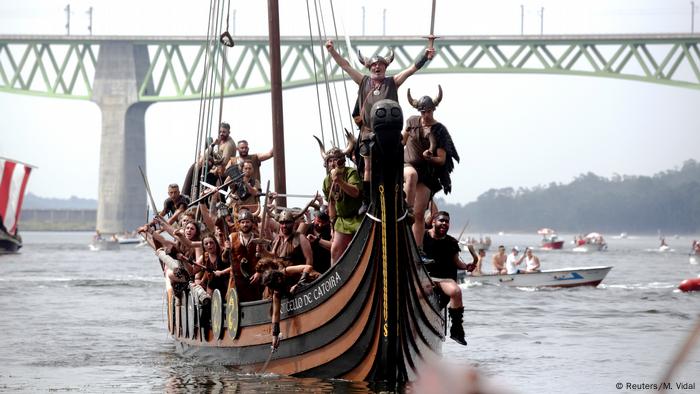 People dressed as Vikings boat during the annual Viking festival of Catoira in north-western Spain
Read more: Vikings win UNESCO World Heritage title
Well-preserved
Paasche said the ship was found buried at about 50 centimeters below the surface in a burial mound. Digital data indicate that the lower part of the ship is well-preserved and a team of archaeologists plan to investigate the surrounding site before excavating the ship, he added.
"We are certain that there is a ship there, but how much is preserved is hard to say before further investigation," Morten Hanisch, a county conservator in Ostfold, said, adding that there were only three well-preserved Viking ship finds in Norway, all excavated many years ago.
The most famous of them is the Oseberg ship discovered in 1903, which is exhibited with the other two in a museum near Oslo. The Oseberg ship is 21 meters in length, while the other two, Gokstad and Tune, measure 23 and 19 meters, respectively.
jbh/msh (dpa, AFP)
Every evening at 1830 UTC, DW's editors send out a selection of the day's hard news and quality feature journalism. You can sign up to receive it directly here.