A set of drums beat heavily at Nyarugusu refugee camp, home to hundreds of thousands of Burundians. They are celebrating World Refugee Day, a day set aside by the United Nations to recognize the plights of millions of people uprooted from their home countries.
The camp is filled with laughter and everyone seems to be having fun. But underneath the party-like atmosphere lie grave concerns and worries.
"The refugees live in this camp as if they are in prison,"Moso Molecha said. The 32-year-old is a refugee himself. He fled conflicts from his home town in the Democratic Republic of Congo (DRC) fifteen years ago.
"They are barred by the government from going outside this camp," Molecha said, looking visibly angry.
Read more: United Nations: 68.5 million people displaced in 2017
Since he arrived at the camp, Molecha has been living in a makeshift hut. He dreams of returning to his previous life or at least his home country. But the ongoing political instability in the DRC means he has to stay in Tanzania indefinitely.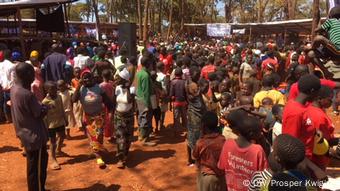 More than half of the 355,000 refugees here are from Burundi
Poor education program
In all three camps — Nyarugusu, Nduta and Kogoma — refugees complained that they do not have enough to eat and lack appropriate school materials.
"We do not even know if the certificates obtained here in the camps will be recognized in schools in Burundi or help us get jobs," said Nahayo Alphonce, a refugee in Nyarugusu camp.
Read more: Nigerian refugees in Germany among top job finders
Alphonce maintained the camps' education program is too low compared to Burundi's. But education is least on their priorities when hunger is looming.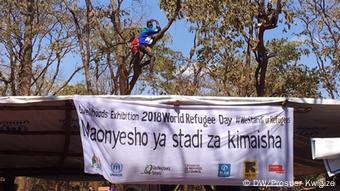 "In Burundi, I had the freedom to do anything to earn a living utilizing my own strength, but in here, we are not even permitted to leave the camp or work in the country," said Ilakoze Abel, a 27-year-old who fled Burundi in 2015.
Restriction on movement
Abel said he is happy about the security in the camps, but the restriction on movement is unbearable. "I have to wait for food and other supplies from the UN refugee agency (UNHCR)," he added.
Abel is referring to a law enacted by the Tanzanian government that prohibits refugees from undertaking any type of local job. The law attempts to create a barrier between the camps and host communities. Locals are forbidden to offer any job including casual labors in agriculture fields or in small-scale businesses.

Some of the refugees complain that Tanzania also froze a UNHCR social services program that hands out cash to them. "UN agencies in the camp are not undertaking any long-term services program anymore," said Anko Juma, who also lives in Nyarugusu camp.
"It's as if everything they do now is for experiment purposes only," Juma said.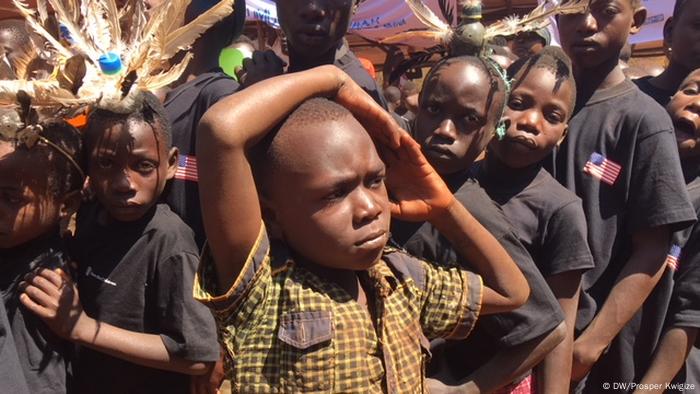 The refugees criticize the education program set up by UNCEF
Read more: Focus on relationships between refugees and local community
Other refugees accused local authorities of receiving huge financial support from donor agencies on their behalf — a claim the local council denies.
"UN agencies have been helping the council to improve the health, water and environment conditions," said Acting Director of the Kibondo District Council, Josephat Kataga. He defended how the local council spends the financial assistance. "The refugees are not the only ones with problems here. The local population also has a lot of issues to deal with," he added.
According to UNHCR, a total of 355,000 refugees from Burundi and the DRC live in Tanzania. But most of them are from Burundi with about 240,000 refugees.