There was a large security presence on the streets of Berlin on Saturday when hundreds of mainly young members of the "identitarians" marched under a banner reading "Future for Europe - for the defense of our identity, culture and way of life."
Their anti-migration stance calls for people who have already moved to Germany to return their countries of origin.
The march's route from the multicultural neighborhood of Gesundbrunnen to the city's main train station was blocked by several hundred protesters from left-wing and antifascist movements who oppose the identitarians' nationalist ideology.
An earlier counter-demonstration organized by a Berlin anti-right-wing group attracted an estimated 4,000 people.
Calls of "Nazis out" could be heard from the counter-protesters, said DW's William Glucroft, who was at the demonstration.
Movement under observation
Active on social media and characterized by its young members, slick marketing and an embracing of the hipster aesthetic, the pan-European "Identitarian Movement" began in France in 2002. In Germany, the Identitarians are under observation by the Federal Office for the Protection of the Constitution, Germany's domestic security service tasked with defending the country's basic democratic order.
Having carried out numerous smaller-scale publicity stunts in the past including unfurling their logo over the Brandenburg Gate in August 2016 and attempting to storm the Justice Ministry in May, Saturday's march was their largest public gathering so far.
German Justice Minister Heiko Maas lamented that the march was being held on the 64th anniversary of the workers' uprising in the former East Germany.
"The identitarians are not a 'movement,' they are an extreme, radical and racist minority," Heiko Maas told the Tagesspiegel newspaper ahead of the march.
Read: A guide to Germany's far-right groups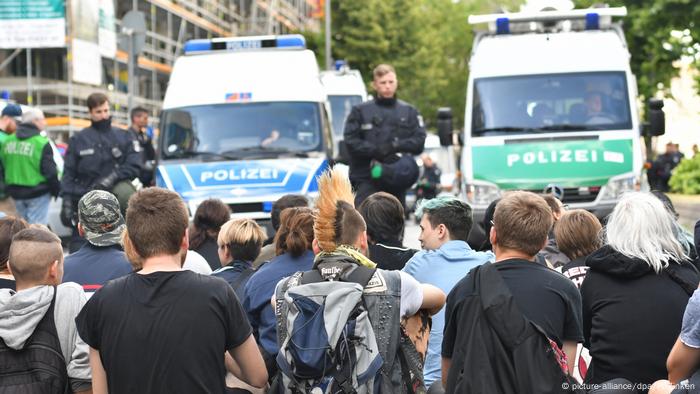 Counter-demonstrators blocked the identitarians' march through Berlin
Blocking Mediterranean rescue boats
The Identitarian Movement is linked to a campaign to block the boats used by migrant rescue charities in the Mediterranean Sea from leaving port. Fundraising for their actions was briefly disrupted when online payments service PayPal refunded about 73,000 euros ($82,500) in donations earlier this week, rather than passing it on to the group.
se/sms (AFP, dpa)