The urgent drive for Catalan independence by the region's separatist leaders has set off deep concern - and even a bit of anger - among many residents in the Spanish capital.
Even as the political situation in Catalonia grows complicated with pro-secessionist political parties squabbling over whether regional premier Artur Mas should stay in power after winning lukewarm support in the parliamentary elections in September, the main focus among Spaniards is still on the unilateral independence push.
A majority of those citizens interviewed in Madrid recently by DW believe that the Spanish government of conservative Prime Minister Mariano Rajoy made the right legal move to prevent the secessionists from trying to split Catalonia from the rest of the Spain.
Last month, Spain's Constitutional Court suspended for at least five months the Catalan law the regional parliament passed days earlier which maps out plans for independence. The Rajoy government had asked the court to block the process.
"This is going to have to stop somewhere, and someone is already trying to put a stop to this," said Candelaria Matos, a 61-year old former teacher, as she was shopping in downtown Madrid.
Wise move?
"Going to the court and letting the judges deal with the process is perhaps the wisest thing the government could do. They just can't send in the military, as some people are asking," Matos said.
Under the Constitution, the government has the power to suspend regional authorities if it finds they are not upholding the law or creating a rebellious situation.
Meanwhile, Mas and his own pro-independence grouping are struggling to hang on to power. On Sunday, members of the anti-capitalist CUP party, which captured the majority of seats during the September 27 parliamentary race along with the center-right Junts pel Si (Together for Yes) coalition, reaffirmed their no-vote for Mas. While CUP party leaders said that they are still open to discussions, new elections may have to be called in Catalonia if no agreement is reached.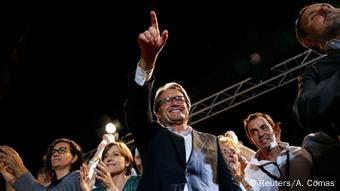 Mas is struggling on several fronts
At a small restaurant on Madrid's narrow Chinchilla street, Luis Valderrama, 45, and Joaquín Costas, 41, ate lunch while discussing the political situation in Catalonia.
"I don't know where these people are coming from," said Valderrama, who works for a construction company. "I don't think anybody in their right mind would pull such a stunt like what Artur Mas and the others are trying to accomplish. If they want to discuss independence, there needs to be at least a dialogue, and then a national debate on the issue. I don't think this is an economic issues as it is a political issue - a struggle to see who is stronger."
Costas, who is in the restaurant business, said he was angry. He believes that more urgent action from the Rajoy government is warranted.
On edge
"They have to go in there and arrest Mas and the others for rebellion. Can you imagine if leaders in other regions start making up their own laws that directly violate the Constitution? I think [the Rajoy government] would be correct in detaining these rebels. Yes, there will be a lot of fuss made, but in the long term it would scare off anyone who wants to defy the government," Costas said.
Javier Zaragoza, the chief prosecutor at Spain's National Court, has ordered the police and Civil Guard to be on the alert for any acts of rebellion if Catalonia's political leaders and community officials violate the Constitutional Court's temporary injunction.
"They are going to go against the order - I can almost guarantee it," said Rafael Quintero Vázquez, a 31-year-old marketing student, as he walked with his girlfriend in Madrid's main square, Puerta del Sol.
"The prime minister has had a lot of patience and I think a lot of people in Barcelona know that. But they keep on pushing him to see how far he will go," he said.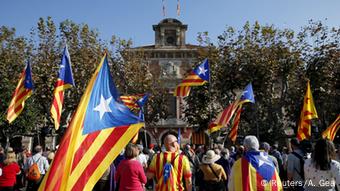 They may be pushing their luck
As a native of Madrid, Vázquez said he is fed up with the Catalan political situation because it has shifted the focus from "more important issues, such as unemployment and social spending."
Independence - and then what?
At La Vaguada shopping center in Madrid's northern Fuencarral-El Pardo district, Sandra García, a 19-year-old university student, said that the Catalan independence drive didn't concern her that much because she believes that the courts will put "a stop to all the foolishness."
"What bothers me is the attitude of those who want independence. I don't think they know what exactly it would mean if they go off [separate] on their own. I think Catalonia would become and remain a very poor country," García said.
Resting on a bench in the shopping center, 79-year-old retiree Antonio Mejías said the Catalans - especially the secessionist leaders - were "a disgrace" for the rest of Spain.
"Those people will never be happy. The prime minister was right when he said they wanted to hijack Spanish democracy. The court has got to put a stop to this, and there has to be a strict ruling based on legal investigations so that no one else in the future will ever question whether they have a right to split from the nation," he said.