A Turkish court on Monday decided to keep a US pastor in prison pending trial on terror-related charges. Andrew Brunson went on trail over alleged involvement with both the movement of Fethullah Gulen — a Muslim preacher who lives in self-imposed exile in the US who Ankara says masterminded a failed 2016 coup in Turkey — and the Kurdistan Workers' Party (PKK).
The trial further increases tensions between Turkey and the US — two NATO allies. In the Syria conflict, the United States has backed fighters from the Kurdish People's Protection Units (YPG); a group Turkey considers a terrorist organization, and Washington refuses to extradite Gulen, despite repeated demands by Ankara.
Read more: The shared past of AKP and the Gülen movement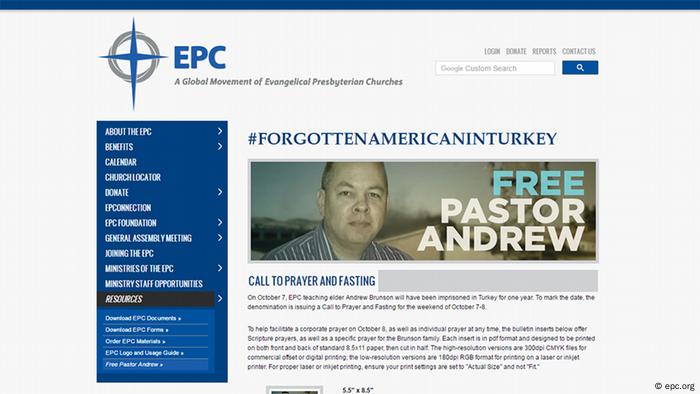 Pastor Andrew Brunson has been in jail in Turkey since 2016
What are the charges against Brunson?
Ankara accuses Brunson of gathering intelligence using his religious work as cover, and working to convert Kurds to Christianity to "divide" the country.
He was originally charged with membership of Gulen's group and risked life imprisonment.
The latest indictment explicitly states he is not charged with being a member of Gulen's group or the PKK.
Read more: Fethullah Gulen, the man behind the myth
'Christianity on trial'
The American Center for Law and Justice, a US conservative Christian group lobbying for Brunson's release, has called him a "hostage of the Turkish government."
Half a million people have signed a petition calling for Brunson's release, stating that the case was putting Christianity on trial.
US President Donald Trump has asked Ankara to "expeditiously" return the pastor to the United States.
Read more: Turkey-US relations 'entering a risky period'
Longtime missionary: Brunson, a 50-year-old from the US state of North Carolina, has lived in Turkey for 23 years and served as the pastor of the Izmir Resurrection Church. He was first detained in October 2016 with his wife, Norine Brunson, who was later released.
Fetullah Terrorist Organization: Turkey blames Fethullah Gulen for orchestrating the 2016 coup. Ankara claims Gulen operates a global network of supporters, which the government has labeled a terrorist group — the so-called Fetullah Terrorist Organization (FETO) — which Ankara says wants to topple the Turkish government.
Government clampdown: Turkey launched a nationwide crackdown on suspected Gulen supporters after the failed putsch, arresting tens of thousands of people and dismissing more than 100,000 public servants from their jobs, the majority of whom were accused of having links to FETO. Andrew Brunson is also charged of being involved with FETO.
Preacher swap: Turkish President Recep Tayyip Erdogan referred to Washington in a speech to police officers last year: "'Give us the pastor back,' they say. You have one pastor as well. Give him (Gulen) to us," he said. "Then we will try him (Brunson) and give him to you. The (pastor) we have is on trial. Yours is not — he is living in Pennsylvania. You can give him easily. You can give him right away." The idea of a swap deal was brushed off by Washington.
No deal: US officials have said that Turkey has failed insufficient evidence to justify Gulen's extradition, raising frustration in Ankara. Brunson, if convicted, could face two separate terms of 15 and 20 years in prison.
kw/rt (AP, AFP)
Each evening at 1830 UTC, DW's editors send out a selection of the day's hard news and quality feature journalism. You can sign up to receive it directly here.