"Music is our passion and it means love and community for us," says Rashaka Mbevhana. The 28-year-old South African was studying law, but in 2011 he decided to start a band with some friends he had met at church camp. Of the six singers, two are originally from Zimbabwe, one from Swaziland, and the other three from different regions in South Africa. All of them have sung in church choirs, but none have studied music. The band was christened "Just 6".
At first it was just a bit of fun, but they expanded their repertoire more and more each year. Three years ago, Just 6 took a big leap and embarked upon a professional music career.
Their big chance came in the form of an invitation from MIAGI, an orchestra that brings together young South Africans from various backgrounds. MIAGI is currently on tour in Europe to mark what would have been Nelson Mandela's 100th birthday on July 18 — and Just 6 were asked to join them.
"That is amazing for us," said Mtha Hospas, 1st tenor and arranger for the band. "After all, despite South Africa's musical richness, we are still rather isolated."
"That's partly because of the large distances, but also with the economic situation — you can't just buy a plane ticket easily to fly to Europe," he added.
Continuing Mandela's legacy
Just 6 started out singing classic African pop songs, such as the global hit "Pata Pata" by Miriam Makeba, aka Mama Africa, who passed away in 2008.
Nowadays, their repertoire ranges from classical music to jazz to German folk songs such as "Loreley," which the singers learned especially for their performances in Germany.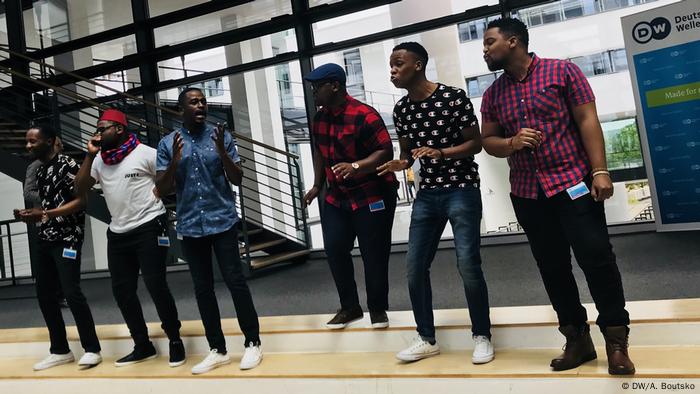 Just 6 gave a spontaneous concert on July 11 at the Deutsche Welle headquarters in Bonn, Germany
"The diversity of the music which they perform is strongly connected to Mandela's understanding of a multi-ethnic, multi-cultural society, a globality, which he was committed to," said MIAGI co-founder and Just 6 supporter Robert Brooks.
Having had a career as an opera singer in Europe, the South African returned to his native country and got stuck into this new project. Even 24 years after the end of apartheid, South Africa "still has a lot of challenges to tackle," said Brooks.
'Africa has more to offer'
While Just 6 look to internationally acclaimed a capella greats for inspiration, they also feel a responsibility to uphold South African singing traditions. So what makes these traditions so special? The singers laugh: "Singing is simply in our genes, or has anyone met a South African who can't sing?"
Just 6 combine a hunger for success and desire to be connected to the international musical scene with a cheerful patriotism. "We are happy to be able to demonstrate here in Europe what we South Africans are capable of," said bass Kwande Cakata. "We simply need more platforms and more opportunities to show the world what we have in store!"
Their next gig, at any rate, is already in the bag: The band has been cast as part of the "Campus Project 2019," which is run by Deutsche Welle in cooperation with Beethovenfest and will focus on African music.