Senior Amnesty adviser Donatella Rovera said US-backed forces nearing Raqqa's central neighborhoods must "redouble" efforts to avoid disproportionate shelling and create safe civilian exits.
The Islamic State (IS), which seized Raqqa as its northern Syrian hub in 2014, was using civilians as human shields and targeting those trying to escape with sniper fire and landmines, Amnesty reported in an assessment published Thursday.
"Violations by IS do not lessen the international legal obligations of other warring parties to protect civilians," said Rovera, referring to the US-backed Syrian Democratic Forces (SDF), which has Kurdish and Arabic militias on the front line.
"Things will only get more dangerous as the battle reaches its final stages in Raqqa city center," Rovera added.
"More can and must be done to preserve the lives of civilians trapped in the conflict and to facilitate their safe passage away from the battleground," she urged, referring to SDF shelling and air raids by the US-led coalition.
'End of the world'
Amnesty's report recalls one incident in which a dozen shells hit a single residential building, killing at least 12 people, among them a baby.
A witness told Amnesty: "It was indescribable; it was like the end of the world."
Another former Raqqa resident said living or dying depended "on luck because you don't know where the next shell will strike."
Another quoted by Amnesty said: "IS wouldn't let us leave. We had no food, no electricity."
Prohibited munitions
Even outside Raqqa, to its south, Amnesty said, civilians trying to shelter in informal camps had been hit by cluster and barrel bombs.
These, alleged Amnesty, had been dropped by Russian-backed Syrian government forces which had advanced against IS on the southern flanks.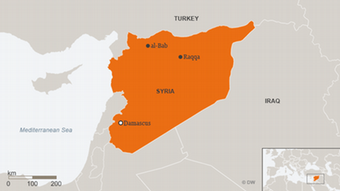 Raqqa in northern Syria, once IS' intended hub
Civilian and casualty figures for Raqqa are vague. The United Nations estimates that 200,000 people have fled the city in recent months.
Estimates of those trapped inside range from 20,000 to 25,000.
The deaths of 789 civilians, 200 of them children, had been documented between June 5 and Wednesday by the Britain-based Syria Observatory for Human Rights, allegedly from bombardments by the US-led coalition.
Casualty figures unclear
From Baghdad on Wednesday, coalition commander Lieutenant General Steve Townsend said he had seen no hard evidence that casualties had increased significantly.
"The fight has now entered into the very hardest parts of the city. And, so our partners are needing greater assistance," Townsend said.
Faced by Iraqi forces, IS is also facing the loss of its bastion of Tal Afar, once another key IS supply hub in Iraq, between Mosul and the Syrian border to the west.
Trapped inside Tal Afar are some 30,000 civilians, according to the United Nations.
Iraqi troops backed by the US-led coalition routed IS from Mosul - Iraq's second city - after a nine-month fight that left heavy casualties and massive destruction.
ipj/rc (Reuters, AFP)