Andrea Bruce will be awarded this year's Anja Niedringhaus Courage in Photojournalism Award which celebrates fearless women photojournalists. The jury praised the empathy and dignity captured by her photographs, saying that Bruce establishes an emotional connection with the people she photographs. That, in its view, makes her an inspiration to other female photographers.
Speaking about her work, Bruce said: "The main thing is to get people to relate to each other. It's a huge goal to get people, especially in the US, to pay attention to the world outside of themselves. That's why I do it." For 15 years, she has been traveling around the world documenting the effects of crises and wars.
Read more: The world in pictures: How photography revolutionized the press
She learned the tricks of the trade while working as a local photojournalist in New Hampshire, explains Bruce. "In New Hampshire, I would cover people taking an exam in school or what it is like to commute on Monday morning." Her first assignment to cover a war zone was commissioned by the Washington Post. Her profession has taken her Afghanistan and Iraq, among other places, but she always tries to capture ordinary, everyday life. "In Iraq, I am trying to do the same thing, but it is different when you have someone trying to commute to work in a war zone." To her, these small, intimate moments best show the true story of war.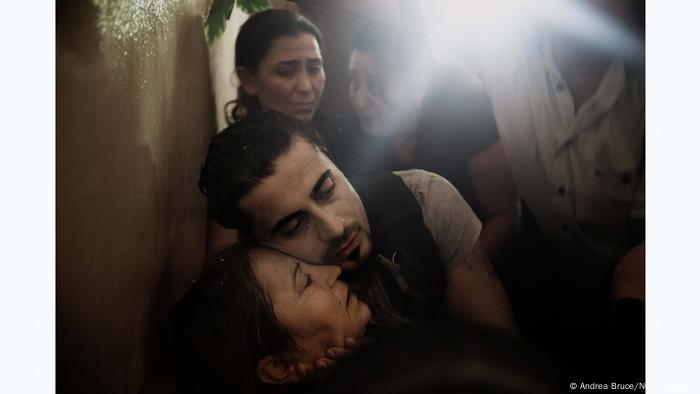 A Syrian family mourns the loss of a son. Photo: Andrea Bruce
Award is a bittersweet honor
"It's rather bittersweet, but it's huge honor," said Bruce. She was friends with German photojournalist, Anja Niedringhaus, after whom the award is named. Niedringhaus was shot and killed in Afghanistan in 2014. "I really looked up to her as a photographer and as a women," says Bruce. They worked together in Afghanistan and Iraq.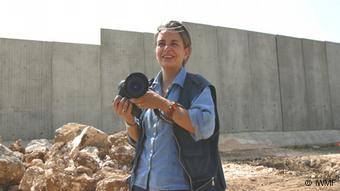 Photojournalist, Anja Niedringhaus, was shot in Afghanistan in 2014
The $20,000 (€ 16,200) prize is awarded by the "International Women's Media Foundation" (IWMF), which since 1990 has been fighting for press freedom and supporting courageous female journalists. Deutsche Welle is a media partner. The IWMF jury also praised the work of Canadian photojournalist, Amber Bracken, for her reporting on Sioux protests against a controversial oil pipeline in North Dakota, as well as the work of British photojournalist, Rebecca Conway, who documented the Kashmir conflict and its impact on the civilian population.
Tireless and unflinching
The journalists report on the lives of people in war-torn regions of the world that have long since vanished from the headlines. "This award is about honoring those who operate in areas of greatest risk yet stay laser focused on those who, as they will tell you, are the real heroes," says IWMF Executive Director Elisa Lees Munoz.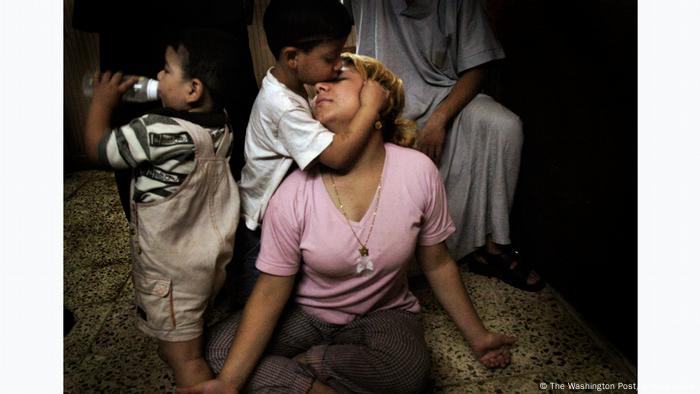 This widow resorted to prostitution to feed her children. Photo: Andrea Bruce
Andrea Bruce will always remember these encounters, such as when she accompanied Halla Hameed, a mother of two, in Iraq for an entire year. In order to be able to feed her two little boys after her husband died, Hameed began working as a prostitute in Baghdad. Bruce describes one picture that is particularly dear to her: it captures an intimate moment in Hameed's life as her four-year-old gives her a kiss, while his two-year-old brother drinks from a bottle of milk. "I decided I needed to do a long term story about her. That photo is really important to me because it shows why she does it. She has two boys, the reason why she has to prostitute herself. She gave all of herself to them, you can see it. Anja actually encouraged me to do that story."
A protester passes out onions and garlic to battle the negative effects of the teargas sent by Bahraini Forces. Photo: Andrea Bruce
Everything is interconnected
So, what is the hardest part of her job? "The hardest thing of coming back to the US , to come back to your country and to realize how little people still pay attention, and that makes you feel like you've failed." Even so, she says that keeps pushing herself. "I still believe in people. I do. When you go and travel all other the world and cover breaking events in many different countries you realize how small this world is and how we are all connected. Everything affects everything. The life of Iraqis or Syrians is affected by who is elected in the United States as president. And who is elected as US president depends on what people feel in the US and what they know. You have to know what is happening in the world."