Helicopters airlifted guests at the popular Swiss resort of Zermatt on Tuesday after heavy snowfall and a power outage marooned an estimated 13,000 tourists at the base of the famous Matterhorn Mountain.
Rail and road links were cut off after at least 80 centimeters (31.5 inches) of snow dropped on the area over 24 hours, according to Switzerland's WSL Institute for Snow and Avalanche Research.
The airlift was not part of an official evacuation, according to AP news agency, which was aimed at transporting those in need and bringing in supplies to stranded visitors.
"Power has returned, there's still the chance that it could go out ... but at this time things look good," a tourist office spokeswoman in the town said. "The atmosphere in the village is relaxed and comfortable."
The WSL Institute also raised the local avalanche risk to the maximum level of five. Nearby cable cars, ski slopes and hiking trails had been closed a day earlier.
Read more:
- Deadly avalanche rocks Italian Alps
- Several people killed in a series of Alps avalanches
- Landslide in Austria leaves 130 villagers trapped in Vals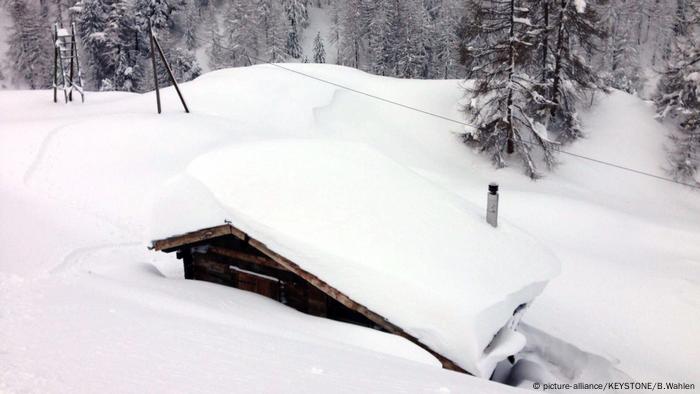 Heavy snow had forced the resort to clos ski lifts and cable cars on Monday
Swiss pattern
Heavy snowfall affected many parts of southwestern Switzerland and some Alpine areas in France over the last few days.
Authorities evacuated 20 people from Visp around 30 kilometers (20 miles) from Zermatt after a snowy mudslide rammed into part of the town, Swiss broadcaster SRG reported.
Snowfall was over 1 meter (39 inches) over 24 hours in some remote areas of the region, according to the WSL Institute.
Swiss media reported that the lower lying villages of Eyholz and Mottec were also evacuated after heavy rain caused severe mudslides.
Read more: No deaths after avalanche sweeps down France ski slopes
On Monday, an avalanche reportedly hit a five-story building in the Italian resort of Sestrieres. None of the 29 people staying in the resort were injured.
In France, police told AFP news agency they were searching for a British skier who went missing near the resort of Tignes.
French forecasters said snowfall in the Savoie area of the Alps was only seen "once in every 30 years" after an estimated 1.8 meters fell over 36 hours.
Swiss authorities said they expect weather in the area to improve on Wednesday.
Read more: Three skiers killed near mountain pass in French Alps avalanche
amp/rt (AP, AFP, Reuters)