The five fatalities belonged to two groups of off-piste skiers in a valley south of Innsbruck in western Austria, police said.
Seventeen others, also from the Czech Republic, were buried by the massive snowslide, which struck in the skiing region of Tyrol.
Two of the skiers were injured but not critically, 10 were rescued unharmed, Tyrol police spokesman Helmut Schuetz said. Others managed to pull themselves out of the snow.
"It was one massive avalanche, several hundred meters wide and long," Schuetz told The Associated Press, adding that it had engulfed the skiers with many tons of snow.
A third group of skiers raised the alert about the avalanche around midday, which took place at an altitude of some 2,000 meters (6,500 feet).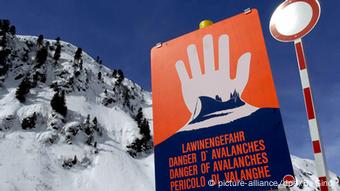 The avalanche alert for the entire region was set at level three of five.
Officials said that on Saturday there had been a number of other avalanches in Tyrol state in which skiers had to be rescued.
The deaths follow a string of fatal snowslides in the French Alps this season.
In the most recent, five soldiers from the French Foreign Legion died near the resort of Valfrejus on January 18, with a sixth dying days later in hospital.
Two French teenagers were also killed on January 13 when a teacher took a group of students onto a closed skiing piste at the Deux-Alpes resort.
mm/sms (AFP, AP, Reuters)