From April 26 until May 12, the ninth Jazzfest Bonn numbers 24 acts, in a "program of high-quality artistry, but also with audience appeal," said Peter Materna when the program was revealed in Bonn last November. The city's many classical music fans are always in the back of the mind of the saxophonist, composer and festival director. "I'm proudest when year after year, more jazz-inclined people join us."
An unusual feature of the Jazzfest Bonn are its double-barrel concerts, each evening featuring two relatively short gigs: usually a well-known along with a lesser-known act. The inclusive lineup appeals to people who otherwise seldom go to jazz concerts and forces aficionados to confront new and interesting artists.
Read more: How musical improvisation works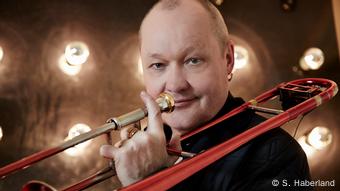 Trombonist Nils Landgren
Big names and new names
The Jazzfest opens on April 26 with Saskya. With its three female musicians, Anna-Lena Schnabel, Lisa Wulff and Clara Haberkamp, the young band has been getting rave reviews. The evening also includes an established act on the European jazz scene, Nils Landgren and his quartet.
With Bonn's own jazz trumpeter Nils Wülker, the Jazzfest offers some home-grown talent. Like Till Brönner, Wülker is considered one of Germany's most successful jazz trumpeters — and he stands out for his improvisations that often approach a pop music style. Julia Hülsmann and Christopher Dell, two figures who have left their mark on the German jazz scene for decades, are joining forces for the first time, exclusively for the Jazzfest.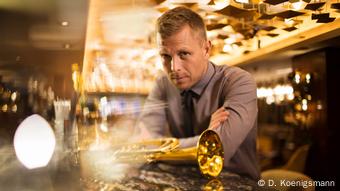 Trumpeter Nils Wülker
Focus on the piano
The Jazzfest 2018 features a rich lineup of piano acts, which Materna describes as a "coincidence." Following the award-winning artist Django Bates (April 29) are the up-and-coming Norwegian pianist Eyolf Dale (May 10), the Japanese keyboarder Makoto Ozone with his trio (May 10) and the American Aaron Goldberg (May 11), also performing in a trio formation.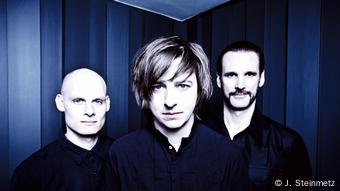 Pianist Michael Wollny is a repeat visitor to the Jazzfest
The festival will draw to a close with a striking combination. After "Martin Albrecht — Scriabin Code" — with the music of the visionary Russian composer Alexander Scriabin (1872-1915) as the point of departure — pianist Michael Wollny's trio takes the stage in Wollny's fourth appearance at the Jazzfest.
Listen to our Jazzfest Bonn podcast series:
Jazz Live, part 1: Jasmin Tabatabai
Jazz Live, part 2: Jazzkantine
Jazz Live, part 3: China Moses
Jazz Live, part 4: Niels Klein and Lars Duppler
Jazz Live, part 5: Rebekka Bakken
Jazz Live, part 6: Rita Marcotulli and Luciano Biondini
DW is a media partner of the Jazzfest Bonn.